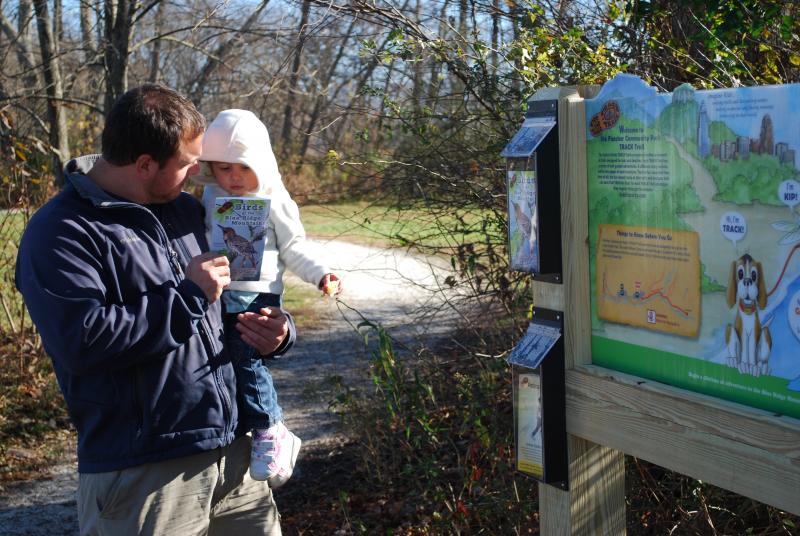 Listed below are our Top 10 Most Visited TRACK Trail sites for the year 2020. These parks, in no particular order, had the highest numbers of Kid in Parks registrations, with each park offering unique experiences across vastly different regions in the United States. The descriptions share what makes each of these parks special, and why they are well worth a visit!
Manassas National Battlefield Park - Stone Bridge Trail
— Manassas, VA
Manassas National Battlefield Park preserves the sites of the First and Second Battles of Manassas, the first being the Battle of Bull Run, which was the first major land battle of the Civil War. These important battlegrounds and associated monuments are nestled in over 5000 acres of meadows, woodlands and streams. The Stone Bridge TRACK Trail is one of two TRACK Trails in the park, following a 1.3 mile loop next to Bull Run. 

The Stone Bridge Trail showcases the biodiversity of the park, featuring elevated floodplain levees and terraces along Bull Run, a lush herb layer, and a seasonally flooded bottomland hardwood forest. This trail also offers its own TRACK Trail activity brochure, Civil War Tales, where you can learn about how the Civil War soldiers related to nature.
Manassas National Battlefield offers a wide array of activities, scenic vistas, historic sites and walking trails. A good place to begin your visit is the Henry Hill Visitor Center. Pick up a park brochure, map, trail guides and check out the daily schedule of interpretive programs.
Click for more information on Manassas National Battlefield - Stone Bridge Trail
Blue Ridge Parkway Visitor Center in Asheville (Milepost 384)
— Asheville, NC

Located only 10 minutes from downtown Asheville is the National Park Service Visitor Center at milepost 384 on the Blue Ridge Parkway. Not only is this a great place to stop for all your Blue Ridge Parkway needs: maps, merchandise, information on the surrounding area — and, of course, restrooms — but you can venture out back and take a hike along a refreshing 1-mile loop trail through the woods. Home to our very first Kids in Parks TRACK Trail, this loop follows a section of the Mountains-to-Sea trail, a 1,175-mile trek stretching from North Carolina's mountains to its coast. It is an easy hike, perfect for all ages, that never ventures far from the Parkway.

While at the Visitor Center, be sure to check out the exhibits inside to learn more about the history of the Blue Ridge Parkway. You can also participate in the National Park Service's Junior Ranger program! Become a Junior Ranger by stopping by the visitor center to pick up activity sheets specific to the area. Complete all the activities and you will receive a special badge designed just for Blue Ridge Parkway Junior Rangers.
Click for more information  on the Visitor Center at Milepost 384 and the Blue Ridge Parkway
 
Shenandoah National Park
— VA
Just 75 miles from the bustle of Washington, D.C., Shenandoah National Park is a recreational escape. Throughout the park are cascading waterfalls, spectacular vistas, and quiet wooded hollows. You can take a hike, meander along Skyline Drive, or go on a picnic with the family. The park's 200,000 acres of protected lands are a haven to deer, songbirds, and even the night sky as low light pollution allows for spectacular viewing of star-filled skies.

This year, all three TRACK Trails in Shenandoah had top rates of visitation from Trail TRACKers. Read further for information on all three TRACK Trails.
Limberlost Trail - Luray, VA
The Limberlost TRACK Trail is located in the Skyland section of the park. It is a 1.3-mile loop, built for visitors of all ages and abilities, that gently winds through sprawling mountain laurel, tall oaks, and feathery ferns. It's home to all sorts of creatures, and it's a place of many changes. Use the "Senses and Sensitivity" activity brochure to discover the signs of those changes and explore the wonders of Limberlost using your senses and imagination.
Click for more information on the Limberlost Trail
 
Fox Hollow Trail  - Front Royal, VA
The Fox Hollow TRACK Trail is a 1.2 mile loop. On this walk in the woods you'll discover evidence of the people who lived here before Shenandoah National Park was established in 1935. Look for the purple flowers of the the vinca vine (periwinkle) in spring and for piles of stones that generations of the Fox family made when they cleared the land for farming. The activity guide will alert you to other discoveries waiting to be made!
Click for more information on the Fox Hollow Trail
 
Blackrock Summit Trail - Luray, VA
The Blackrock Summit TRACK Trail is a 1-mile loop with a 175-foot elevation gain to a rocky talus slope overlooking the Shenandoah Valley. This hike winds along a portion of the Appalachian Trail, a 2,200-mile trail from Georgia to Maine. Every year, thousands of people attempt to thru-hike the entire trail. Use an activity guide to discover the joys and struggles you would experience as a thru-hiker on the Appalachian Trail.
Click for more information on the Blackrock Summit Trail
San Dieguito County Park
— Del Mar, CA
San Dieguito County Park is a 125-acre day-use park bordering the cities of Del Mar, Solana Beach and Rancho Santa Fe, California. The park offers a variety of recreational activities including playgrounds, exercise stations, hiking trails, a basketball court, a specialized baseball field and an "activity hill" with rope bridges, hillside ladders and look out stations. In addition to the activities the scenery is breathtaking. There are views of native and rare plants & trees, along with sightings of a variety of birds, reptiles and mammals. 
The park is divided into an upper park and a lower park. TRACK Trails can be found in each area. Both trails offer unique learning experiences through different types of vegetation & wildlife, with the upper course being ADA accessible. The Eastern border of the park is historical El Camino Real, which is also called King's Highway and sometimes California Mission Trail. This roadway actually provides a hiking option to our neighboring County Park, San Elijo Lagoon Ecological Reserve, another participant in the TRACK Trails program.
Click for more information on San Dieguito County Park
First Landing State Park
— Virginia Beach, VA

First Landing State Park is so-named because it is the site where the Virginia Company landed on Cape Henry in 1607. From here, the English colonists eventually moved westward and formed Jamestown, the first permanent English settlement in North America. Throughout history, this area has been an important source of water and transportation, but nowadays, the park offers a wide range of recreational activities for visitors across 2,888 acres, such as swimming, hiking, biking, boating, and fishing. First Landing also has a distinct natural habitat; the park is the northernmost east coast location where subtropical and temperate plants can be found growing together. Experience this unique habitat along the Bald Cypress TRACK Trail, an easy 1.8 mile loop through cypress swamp where you will see a variety of birds, trees, and insects. Dragonflies are especially prominent along this trail, and you can use the "Quest for Dragons" activity brochure to learn about the various dragonfly species that live in the park.
Click for more information on First Landing State Park
Carolina Beach State Park
— Carolina Beach, NC
If you're looking for a diverse place to not only hike but also fish, Carolina Beach State Park is the place for you! Six miles of easy hiking trails meander through distinct coastal habitats, and fishing is available along the riverbank or from an ADA-accessible fishing deck. You can even launch a boat from the marina, where fuel, snacks, and fishing and camping supplies are available at the marina store. Refresh yourself after some time fishing by journeying over to the TRACK Trail along Snow's Cut, a man-made waterway that completed the Intracoastal Waterway in 1929, connecting it to the Cape Fear River and turning Carolina Beach State Park into a barrier island.
Rangers regularly host educational and interpretive programs to teach visitors about the fascinating history and natural diversity of the park. Most notably, the presence of the Venus flytrap is a unique feature of Carolina Beach State Park, as is the presence of other carnivorous plants such as pitcher plants, bladderworts, sundews, and butterworts. All of which you can learn about in the visitor center exhibit hall.
Click for more information on Carolina Beach State Park
 
Chimney Rock State Park*
— Chimney Rock, NC
An icon of Western North Carolina, Chimney Rock is a beloved attraction for many visitors to the region. But for those looking to expand their visit and explore other hiking opportunities, Chimney Rock State Park offers an array of trails throughout the park, including little adventures for beginner hikers. One such adventure is the Great Woodland Adventure Trail, an easy, 0.6-mile loop featuring 12 discovery stations for kids. Here you can use any of the available Kids in Parks adventure brochures, which can be found at the trailhead located near the beginning of the trail.
 
In addition to six hiking trails located within the fee-based Chimney Rock access, there are four free trails that are accessible from the Rumbling Bald access, the Eagle Rock Reserve Parking Area, and from Chimney Rock Village.
Click here for more information on Chimney Rock State Park or here to plan your trip and purchase tickets

*The TRACK Trail materials at Chimney Rock State Park are accessible within the fee-based Chimney Rock access
 
Lake Norman State Park
— Statesville, NC
At Lake Norman State Park, fun is just a matter of scale. On one hand, there's the largest manmade lake in the state, Lake Norman. When filled to capacity, its surface area is 32,510 acres with a shoreline of 520 miles and a main channel 34 miles in length - thus its nickname, the "Inland Sea." Thirteen miles of the shoreline are in the state park, which provides boating access. On another hand, the park boasts its own 33-acre lake where fishing and boating are enjoyed. And with hiking and biking trails, picnic areas, interpretive programs and campgrounds, there's more to Lake Norman State Park than merely water.
The Lake Norman State Park TRACK Trail adventures can be used on the Lakeshore Trail and the Short Turn Trail. These two trails combined make a 2.5 mile loop with many scenic views of the lake. The trail has some minor hills and a road crossing. Keep your eyes open and have fun!
Click for more information on Lake Norman State Park
Fort Macon State Park
— Atlantic Beach, NC
Fort Macon State Park has multiple personalities as the site of a perfectly restored Antebellum-era fort, a museum-quality coastal education center, and an unspoiled shoreline for swimming, surf fishing, and beachcombing. Nearly surrounded by water at the eastern tip of Bogue Banks, the park offers undisturbed natural beauty and opportunities to explore and learn about salt marshes, estuaries, and dune fields. The fort has a history as intricate and unique as the ecosystem. Cannon and musket demonstrations and guided tours are regular features, complementing extensive exhibits indoors and out. A bathhouse and wheelchair-accessible beachside areas complete the recreational fare.
The TRACK Trail at Fort Macon State Park gives you an option of a short, 0.25-mile loop or a longer 3.2-mile roundtrip hike through coastal habitat. The 3.2-mile hike will take you through marsh, maritime forest, and sand dunes. A wide variety of plant and animal life can be found throughout the park. About halfway through the hike, you can access water fountains, restrooms, and rest at the beach before continuing your hike.
Click for more information on Fort Macon State Park
Salem Lake Bike Trail
— Winston-Salem, NC
Salem Lake and the surrounding lands and streams draining into the lake are part of the Salem Lake Watershed. This watershed provides habitat for wildlife, recreation opportunities for people, and a water supply for the city of Winston-Salem.
The Salem Lake Bike TRACK Trail features nine stations around the seven mile lake loop. Each stop has a sign with interpretive information about the plants and animals that make Salem Lake their home, as well as some information about the value of the lake and why it's important to keep it clean. You will also find tips to improve your biking skills.

Kids can register their rides on the trail at kidsinparks.com to earn free bicycle gear. In addition, each sign contains a secret code letter at the bottom right corner. Remember the code letters and un-scramble them to enter the code word on the form and win a special prize!
Click for more information on Salem Lake Bike Trail