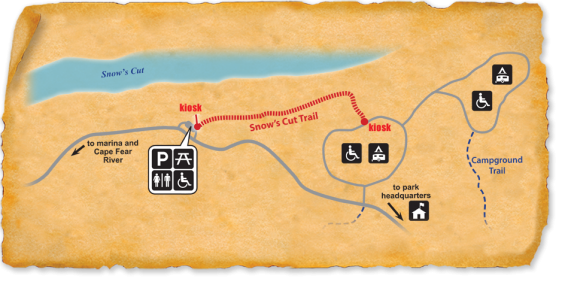 The Carolina Beach State Park TRACK Trail follows the Snow's Cut Trail. This out-and-back trail is an easy 0.9 miles round-trip, connecting the picnic area and campgrounds.
The trail features scenic views of Snow's Cut and some of the largest pine and hardwood trees in the park. Have fun as you travel the trail, exploring the park and discovering its wonders!
With a marina providing access to some of North Carolina's best fishing spots, a secluded camping area beneath towering trees, and miles of hiking trails that traverse a variety of distinct habitats - not to mention the presence of the Venus flytrap, one of the world's most unique carnivorous plants - it's no wonder Carolina Beach State Park is a popular coastal attraction. Located in an area steeped in both history and natural diversity, the park includes a visitor's center with exhibits depicting the wonders of its environment. Visit Carolina Beach State Park to relax, enjoy nature or embark on an eye-opening adventure.
Track an adventure here

Location Details
Recreational Features:
Paved Bike Path, Canoe / Kayak, Camping, Picnic Tables, Fishing, Interpretive Programs, Birding
Amenities:
Restrooms, Visitor Center, Food Service
Seasonality:
Adventures for Carolina Beach State Park
Directions
Latitude: 34.042893900000
Longitude: -77.896597000000
Carolina Beach State Park is located off US 421 in New Hanover County on Dow Road, 10 miles south of Wilmington. From Raleigh, take Interstate 40 east. After approximately 122 miles, the interstate turns into NC 132. Continue south on NC 132, driving through Wilmington. US 421 will join NC 132; continue south on US 421. After driving across Snow's Cut Bridge over the Intracoastal Waterway, turn right at the second stoplight onto Dow Road, and follow the signs to the park entrance, which is on the right on State Park Road.