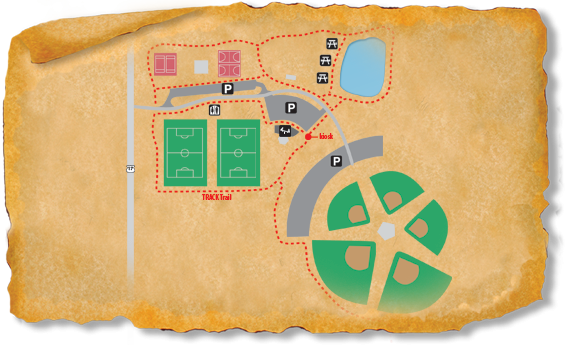 Brunswick County's Town Creek District Park is a 55 acre park with 2.5 miles of walking paths that crisscross their way throughout the park. The paved walking paths have been designated as the TRACK Trails, delivering park visitors to ball fields, recreational facilities, exercise equipment stations, and the natural resources found around the park.
Along the outer perimeter of the trail, visitors will have the opportunity to view ducks and other aquatic birds and animals in a small pond, as well as walk beneath some of the tree species found in the region. In the southeast corner of the park, the trail makes its way through a wooded corridor that links the park with the local elementary school.
The TRACK Trail brochures will help visitor identify some of the common tree, bird and flower species found along the trail, and in the Brunswick County region. And, the Animal Athletes brochure will help kids and families get physically fit as they copy the athletic movements of the animals that can sometimes be found around the park.
Have fun exploring the park!
Track an adventure here

Location Details
Recreational Features:
Picnic Tables, Playground
Amenities:
Restrooms, Visitor Center
Seasonality:
Open all year
Adventures for Town Creek District Park
Directions
Latitude: 34.146101000000
Longitude: -78.091516000000
If approaching the park from the North on Hwy 17, you'll have to pass the park by about a 1/4 mile and use the turnaround lane to backtrack to the park entrance. Please use caution as you make your U-Turn.