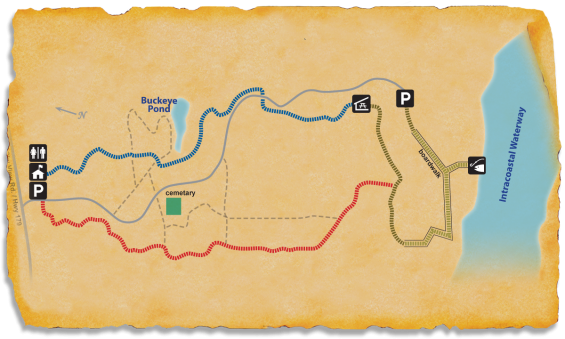 Vereen Memorial Gardens are located in Little River, near the NC state-line in Horry County, SC. The Gardens are home to a variety of wildlife and local history. Along the trails, you can find a variety of tree species, view wetlands and the inter-coastal waterway. You can also find a variety of birds that call the woodlands and wetlands home.
The TRACK Trail materials at Vereen Memorial Gardens were designed for use on any of the park's trails. Starting at the CB Berry Community & Historical Center rear parking lot, the trails at Vereen Memorial Gardens make their way through a variety of woodlands and continue through to the wetlands. Boardwalks and bridges bring you through the wetlands and to the Atlantic Inter-coastal Waterway.
The trail from the trail-head to the wetlands and back is approximately 3 miles long.
Track an adventure here

Location Details
Recreational Features:
Canoe / Kayak, Picnic Tables, Fishing, Birding
Amenities:
Restrooms, Visitor Center
Seasonality:
Open all year
Adventures for Vereen Memorial Historical Gardens
Directions
Latitude: 33.884902000000
Longitude: -78.597517000000
From Myrtle Beach. Drive North on Hwy 17. Vereen Memorial Gardens is located on the right, about ½ mile before the NC border.
From Wilmington. Drive South on Hwy 17. Vereen Memorial Gardens is located on the left, about ½ mile after the border for SC.