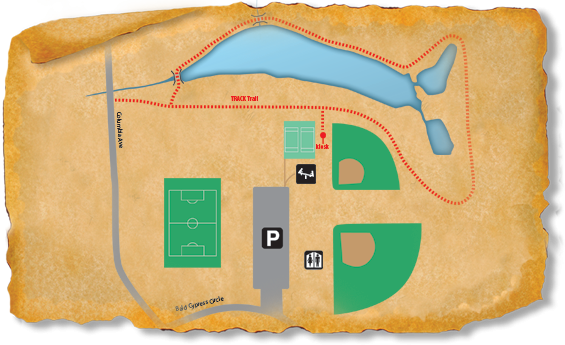 The 0.5-mile long walking path that loops around the pond has been designated as the park's TRACK Trail. The trail is partially-paved, with the portion of the trail that's closer to the ball fields being paved. The trail on the far side of the pond is a natural surface, providing a bridge and dam crossing to get across one of the creeks and across the pond back into the park.
Elizabeth Brinkley Park provides visitors with the opportunity to recreate outdoors on one of the park's sports fields and tennis courts, play on the playground, or walk around the pond along the partially-paved walking path.
The Hide and Seek, Need for Trees and Pond Life brochures will allow visitors to learn about and engage with the natural resources found in the park, while the Animal Athletes brochure will encourage kids to do animal exercises in an attempt to improve their health in a fun, creative way.
Have fun discovering the park and playing outside!
Track an adventure here

Location Details
Recreational Features:
Paved Bike Path, Picnic Tables, Birding, Playground
Seasonality:
Open all year
Adventures for Elizabeth Brinkley Park
Directions
Latitude: 34.317668800000
Longitude: -78.507351500000