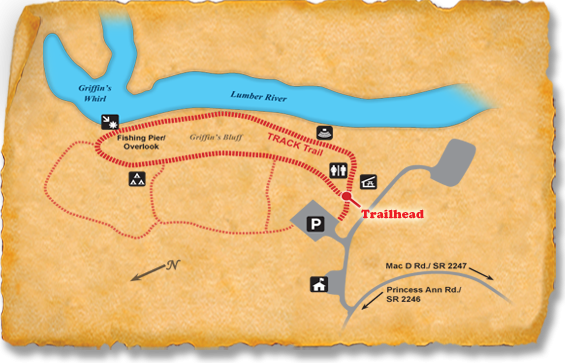 The Lumber River State Park TRACK Trail is an easy 0.5 mile loop along Griffin's Bluff. The Trail features interpretive panels and an observation deck overlooking Griffin's Whirl, a unique reverse flow area in the river.
The Lumber River flows through the south-central portion of North Carolina. The river's headwaters are in Montgomery, Moore, Richmond and Scotland counties where the waterway is known as Drowning Creek. The creek becomes a river at SR 1412/1203 along the Scotland-Hoke county line, and its waters flow into South Carolina, eventually joining the Little Pee Dee River.
Lumber River State Park contains 11,064 acres of land and 115 miles of state natural and scenic waters, 81 miles of which are also designated national wild and scenic waters. The park's recreation activities are currently centered at two access areas, Princess Ann and Chalk Banks. Princess Ann overlooks a unique reverse flow area named Griffin's Whirl. At the access, a bend in the river opens to a long, straight vista that beckons paddlers to take a ride. Chalk Banks, near the town of Wagram on the upper end of the river, has an interesting mixture of plants, fish, and animals from the sandhills and coastal plains regions.
Track an adventure here

Location Details
Recreational Features:
Mountain Bike Trails, Canoe / Kayak, Camping, Picnic Tables, Fishing, Interpretive Programs, Birding, Playground
Amenities:
Restrooms, Nature Center, Visitor Center
ADA Compliant:
Seasonality:
Adventures for Lumber River State Park - Princess Ann Access
Directions
Latitude: 34.388761000000
Longitude: -79.001024000000