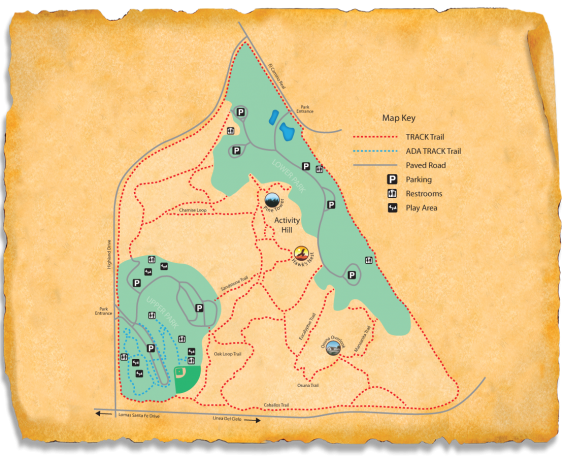 San Dieguito County Park is a 125-acre (0.51km2) beautiful day-use park bordering the cities of Del Mar, Solana Beach and Rancho Santa Fe, California. The park offers a variety of recreational activities including playgrounds, exercise stations, hiking trails, a basketball court, a specialized baseball field and an "activity hill" with rope bridges, hillside ladders and look out stations. In addition to the activities the scenery is breathtaking. There are views of native and rare plants & trees, along with sightings of a variety of birds, reptiles and mammals. The grounds are home to a wedding gazebo, pavilions, large open lawns and picnic areas with BBQ's, restrooms, drinking fountains and parking. All combine to make this a popular destination for company picnics, family reunions, weddings and other group gatherings.
The park is divided into two clearly defined areas, an upper park and a lower park. Separate TRACK Trails have been added to each area. Both trails offer unique learning experiences through different types of vegetation & wildlife, with the upper course being ADA accessible. The Eastern border of the park is historical El Camino Real, which is also called King's Highway and sometimes California Mission Trail. This roadway actually provides a hiking option to our neighboring County Park, San Elijo Lagoon Ecological Reserve, another participant in the TRACK Trails program. 
San Dieguito County Park's ten picnic areas, the wedding gazebo and changing room, meeting room, and the Miracle Ball Field can be reserved. Each area can accommodate birthdays, family reunions and other private events.
For additional information please visit: sdparks.org
Track an adventure here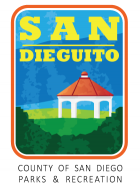 Location Details
Recreational Features:
Picnic Tables, Playground
Seasonality:
Open all year
Adventures for San Dieguito County Park
Directions
Latitude: 32.996949400000
Longitude: -117.236760900000