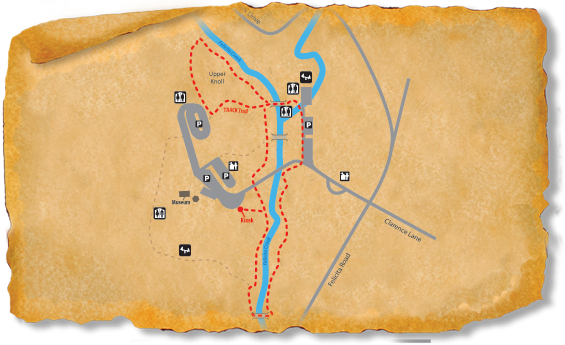 The Felicita County Park TRACK Trail is an easy 1.4 mile hike that encompasses the entire park. The trail journeys through ancient oak groves and along a quiet year-round stream.
While hiking, keep an eye on the sky for a red tail hawk or on the stream for a snowy white egret wading in the water. You may also smell fragrant sage as you hike.
These trails were once used by the Kumeyaay Indians who made this land their home. You may discover many "metates" or grinding stones where they ground acorns for food. Relax in the shade and listen to the stream as you imagine all the wonders these oak trees have seen over the years.
Track an adventure here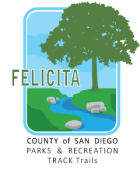 Location Details
Recreational Features:
Picnic Tables, Birding, Playground
Amenities:
Restrooms, Visitor Center
ADA Compliant:
Seasonality:
Open all year
Adventures for Felicita County Park
Hiking
Animal Athletes
Difficulty:
Easy
Trail length:
1.40
The Animal Athletes adventure challenges kids to exercise with the animals. This brochure gives kids eight different animal exercises they can do along the trail. From hummingbird hand-swings to lizard pushups, kids are sure to have fun getting in shape with the animals during their outdoor adventures.
Hiking
Nature's Hide & Seek
Difficulty:
Easy
Trail length:
1.40
The Nature's Hide & Seek brochure is designed so that kids of all ages can walk along the trail and discover common things that are often overlooked in nature. Some of them are hard to find, others are easy. Best of all, the adventure never ends because every time you walk the trail you will discover new things hiding in nature.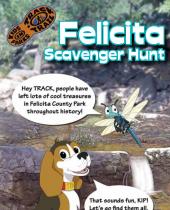 Hiking
Felicita Scavenger Hunt
Difficulty:
Easy
Trail length:
1.40
Many people have inhabited the land of Felicita Park over the years. If you look closely, you can see where they made their mark among the natural beauty of this place. Use this brochure to help you find all the treasures around the park!
Directions
Latitude: 33.082405300000
Longitude: -117.084248100000