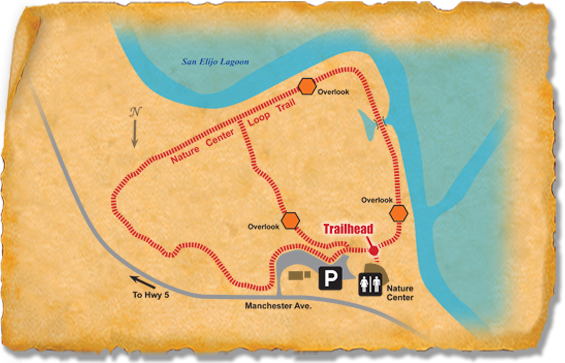 The San Elijo Lagoon Ecological Reserve TRACK Trail is an ADA accessible, ¾ mile double-loop trail. It meanders through chaparral, salt marsh, and riparian woodland habitat abundant with plant and animal life.
Not only is this 1,000 acre Reserve one of the few remaining coastal wetlands, it is also home to an exceptional number of plants and animals, many of which are listed as sensitive or endangered.  Additionally, the lagoon serves as an important resting spot for the many migratory birds that travel thousands of miles along the Pacific Flyway. The LEED-platinum Nature Center boasts many "green" features as well as interpretive displays and an observation deck. Additional partners for this TRACK trail include Jimbo's . . . Naturally! Natural Foods Grocer and San Diego County Parks Society.
The County of San Diego, San Elijo Lagoon Conservancy, and State of California together manage the resources of San Elijo Lagoon.
For more information visit:
San Elijo Lagoon Ecological Reserve 
Track an adventure here

Location Details
Recreational Features:
Picnic Tables, Interpretive Programs, Birding
Amenities:
Restrooms, Nature Center, Visitor Center
Seasonality:
Adventures for San Elijo Lagoon Ecological Reserve
Directions
Latitude: 33.013346900000
Longitude: -117.273261100000
For Official Directions and Map Click Here
Directions:  From Interstate 5, take the Manchester Avenue exit (#39).  Head west approx. ½ mile and turn left into the Nature Center parking lot. 
From Highway 101, turn east onto Chesterfield Drive.  After crossing over the railroad tracks, turn right onto San Elijo Avenue.  At 3-way stop, continue straight on Manchester Avenue.  Entrance to Nature Center is a located on the right approximately 1/3 mile from the 3-way stop.