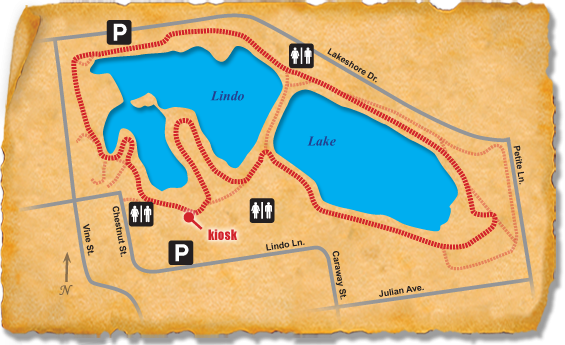 The Lindo Lake County Park TRACK Trail is an easy 1.4 mile loop around the lake. On your walk, be sure to check out the 17 fitness stations located along the trail. If you want to do more than hike, the park also features two play areas, a skate park, an historic boat house, and picnic pavilions.
The trail offers great opportunities to see the various wildlife that is attracted to the lake. As one of San Diego county's few natural lakes, birds of many kinds can be found here. If you'd rather learn about the wildlife beneath the surface, the lake also has opportunities for fishing
Track an adventure here

Location Details
Recreational Features:
Paved Bike Path, Mountain Bike Trails, Picnic Tables, Birding, Playground
Amenities:
Restrooms, Visitor Center
ADA Compliant:
Seasonality:
Adventures for Lindo Lake County Park
Directions
Latitude: 32.856523000000
Longitude: -116.917960300000
For official directions and map click here
Take Interstate 8 east; merge onto CA-67 north; take the Winter Gardens Blvd. exit toward Lakeside; keep right at the fork to go on Winter Gardens Blvd.; turn Left onto Woodside Avenue; Woodside Avenue becomes Chestnut Street; Chestnut Street becomes Lindo Lane.