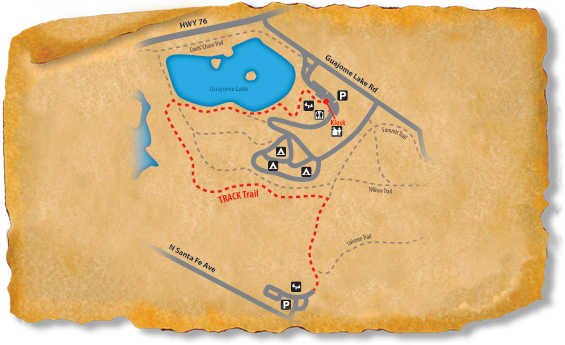 The Guajome Regional Park TRACK Trail is an easy out-and-back trail that traverses through 0.9 miles of diverse Southern California habitats. The trail meanders by Guajome Lake, past lush wetlands, and through woodlands and chaparral.
Because of Guajome's ideal landscape, it is one of the best places to spot birds in Northern San Diego County. Over 186 different species of birds have been sighted here. How many different birds can you find on your hike?
Track an adventure here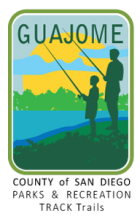 Location Details
Recreational Features:
Camping, Fishing, Birding, Playground
ADA Compliant:
Seasonality:
Open all year
Adventures for Guajome Regional Park
Hiking
Animal Athletes
Difficulty:
Easy
Trail length:
0.90
The Animal Athletes adventure challenges kids to exercise with the animals. This brochure gives kids eight different animal exercises they can do along the trail. From hummingbird hand-swings to lizard pushups, kids are sure to have fun getting in shape with the animals during their outdoor adventures.
Hiking
Nature's Hide & Seek
Difficulty:
Easy
Trail length:
0.90
The Nature's Hide & Seek brochure is designed so that kids of all ages can walk along the trail and discover common things that are often overlooked in nature. Some of them are hard to find, others are easy. Best of all, the adventure never ends because every time you walk the trail you will discover new things hiding in nature.
Hiking
Birds of Guajome Regional Park
Difficulty:
Easy
Trail length:
0.90
Over 186 different bird species have been sighted at Guajome Regional Park. Use this brochure to discover how you can identify birds with clues such as location, behavior, size, shape and field marks.
Directions
Latitude: 33.245186400000
Longitude: -117.274900900000