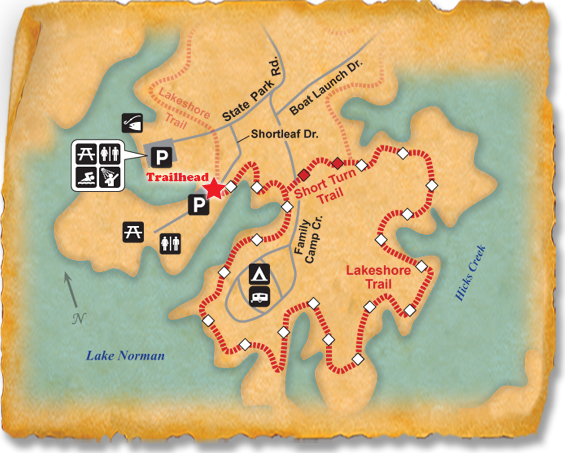 The Lake Norman State Park TRACK Trail adventures were designed for use on the Lakeshore Trail (white blazes) and the Short Turn Trail (red blazes). These two trails combined make a 2.5 mile loop with many scenic views of the lake. The trail has some minor hills and a road crossing. Keep your eyes open and have fun!
At Lake Norman State Park, fun is just a matter of scale. On one hand, there's the largest manmade lake in the state, Lake Norman. When filled to capacity, its surface area is 32,510 acres with a shoreline of 520 miles and a main channel 34 miles in length - thus its nickname, the "Inland Sea." Thirteen miles of the shoreline are in the state park, which provides boating access. On another hand, the park boasts its own 33-acre lake where fishing and boating are enjoyed. And with hiking and biking trails, picnic areas, interpretive programs and campgrounds, there's more to Lake Norman State Park than merely water.
Track an adventure here

Location Details
Recreational Features:
Mountain Bike Trails, Canoe / Kayak, Camping, Picnic Tables, Fishing, Interpretive Programs, Birding
Amenities:
Restrooms, Visitor Center
ADA Compliant:
Seasonality:
Adventures for Lake Norman State Park
Directions
Latitude: 35.673788000000
Longitude: -80.931902000000
Click here for official maps and directions
Lake Norman State Park is located in Iredell County, 10 miles south of Statesville and 32 miles north of Charlotte. Reach the park from I-77 by taking exit 42 onto US 21 north. Travel north on US 21 to Troutman, then turn left on to Wagner Street. Turn right on State Park Road, which ends in the state park.