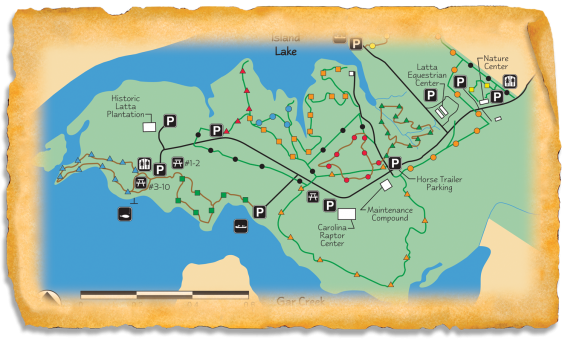 The Latta Plantation Nature Preserve TRACK Trail adventures can be used throughout the Preserve, but are designed as guides for Audubon, Cattail, Treasure Tree, and Beechwood Trails.
Cattail Trail is an easy, half mile loop that follows the edge of a peninsula along Mountain Island Lake. Look for fairy houses along the half mile loop of the Audubon Trail. Treasure Tree Trail is an easy, 0.7 mile loop trail that provides the opportunity to view century-old trees. Beechwood Trail is a moderate, 1 mile loop that offers opportunities to walk amongst some of the largest American beech trees in the Preserve.
Latta Plantation Nature Preserve is the County's largest nature preserve and protects over 1,343 acres of natural communities including the Beatties Ford Basic Forest natural heritage site. The preserve forms a green peninsula extending into Mountain Island Lake, the drinking water source for over 700,000 residents in Mecklenburg and Gaston counties. Its diversity of natural communities includes upland and bottom land hardwood forests, open fields, streams, and a Piedmont Prairie restoration site protecting the federally endangered Schweinitz's sunflower and Michaux's sumac. The Preserve is part of the Mountain Island Lake Important Bird Area, designated by the National Audubon Society due to its diversity of wintering waterfowl, breeding and migratory songbird species, and protection of bottom land hardwood forests, a threatened natural community in North Carolina.
Track an adventure here

Location Details
Recreational Features:
Canoe / Kayak, Picnic Tables, Fishing, Interpretive Programs, Birding
Amenities:
Restrooms, Nature Center
Seasonality:
Open all year
Adventures for Latta Plantation Nature Preserve
Directions
Latitude: 35.355868200000
Longitude: -80.909922300000
For directions and other information, please click here for the Latta Plantation Nature Center & Preserve's website.