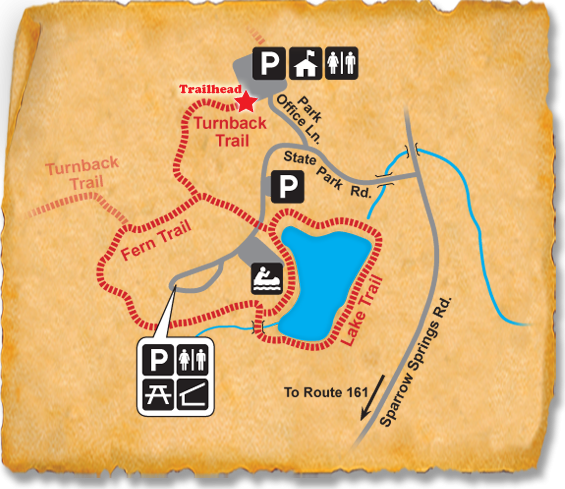 Crowders Mountain State Park's TRACK Trail adventures were designed for use on the Turnback Trail, Fern Trail, and Lake Trail. These three trail combined make a 2.1 mile round-trip hike. The fern trail features various species of ferns and wildflowers. The Lake trail offers scenic views and is a great place to spot wildlife. Have fun as you travel the trail, exploring the park and discovering its wonders! PLEASE USE CAUTION WHEN CROSSING THE ROAD.
Raptors soar gracefully in the wind; vegetation reaches to the sky; sheer vertical cliffs drop 150 feet. Enjoy the spectacle from a front-row seat. High atop Crowders Mountain, the second highest point in Gaston County, views stretch for more than 25 miles. For a closer view of nature's marvels, walk the park's many miles of trails. The gently rolling landscape of the North Carolina Piedmont offers a variety of terrain. Dip into the valleys; cross the foothills; climb to the peaks. Quiet woods, trickling streams and melodious birds await. These spectacular surroundings, like the unique habitats in many other state parks, would not exist were it not for the efforts of concerned citizens dedicated to protecting our environment.
Track an adventure here

Location Details
Recreational Features:
Camping, Picnic Tables, Fishing, Interpretive Programs, Birding
Amenities:
Restrooms, Nature Center, Visitor Center, Gift Shop
ADA Compliant:
Seasonality:
Adventures for Crowders Mountain State Park
Directions
Latitude: 35.213504000000
Longitude: -81.293133300000
Click here for official maps and directions
From southbound I-85, take exit 13 to Edgewood Road. At the top of the ramp turn left onto Edgewood Road. At the first stoplight, turn right onto Franklin Boulevard/Highway 74 and drive approximately two miles. At the next stoplight, turn left onto Sparrow Springs Road. Continue on Sparrow Springs Road for approximately two miles, and turn right again on Sparrow Springs Road. The main entrance to the park will be on the right in less than one mile.
From northbound I-85, take exit 8 to NC 161. At the top of the ramp turn right onto NC 161 and drive approximately a quarter mile. Then turn left onto Lake Montonia Road/Pinnacle Road and follow it to its end at Sparrow Springs Road. Turn left at the stop sign onto Sparrow Springs Road. The main entrance to the park will be on the left in approximately one mile.