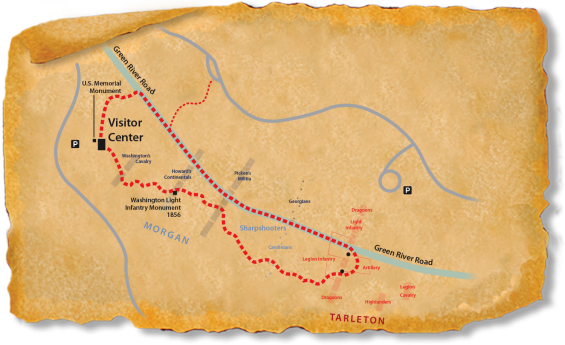 This National Park Service site protects and preserves a Revolutionary War battlefield where American Daniel Morgan and his army won the Battle of Cowpens in a decisive battle against the British that was finished in less than an hour. The Battlefield Trail meanders through the 845-acre park, over the gently rolling battlefield, giving visitors an opportunity to experience the same terrain where the battle participants fought in January 1781.
The Cowpens National Battlefield TRACK Trail follows the trail used for the walking tour, a partially paved 1.25-miles loop through the battlefield.
Track an adventure here

Location Details
Recreational Features:
Interpretive Programs
Amenities:
Restrooms, Visitor Center
Seasonality:
Open all year
Adventures for Cowpens National Battlefield
Hiking
Nature's Hide & Seek
Difficulty:
Easy
Trail length:
1.25
The Nature's Hide & Seek brochure is designed so that kids of all ages can walk along the trail and discover common things that are often overlooked in nature. Some of them are hard to find, others are easy. Best of all, the adventure never ends because every time you walk the trail you will discover new things hiding in nature.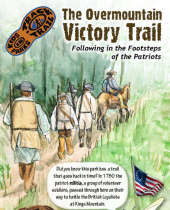 Hiking
Overmountain Victory Trail
Difficulty:
Easy
Trail length:
1.25
The Overmountain Victory Trail adventure introduces children to the Overmountain Victory Trail and describes how the Overmountain Men used their wilderness and hunting skills to defeat the British Loyalists at Kings Mountain.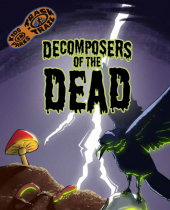 Hiking
Decomposers of the Dead
Difficulty:
Easy
Trail length:
1.25
When plants and animals die, an important type of organism takes care of the mess. Scavengers and decomposers feed on dead things and return the energy to the ecosystem. Use this brochure to learn about the great and gross world of decomposers.
Directions
Latitude: 35.136712000000
Longitude: -81.818205000000