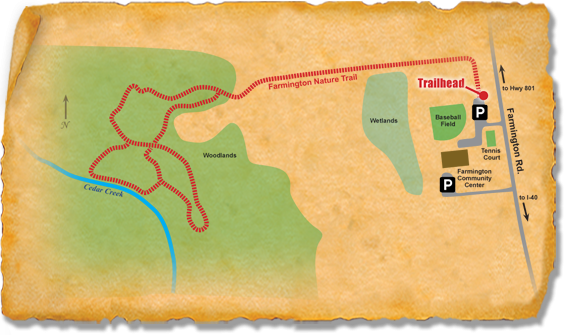 The Farmington Nature Park TRACK Trail follows the Farmington Nature Trail. This easy 1.5 mile loop features a variety of habitats including open fields, wetlands, woodlands, and an offshoot to Cedar Creek.
Farmington Nature Park is located in the historic community of Farmington, North Carolina. The 65 acres of natural landscape are owned and operated by the Farmington Community Center, a non-profit organization whose mission is to "Preserve the Past to Promote the Future." The Farmington Community Park is a new park in it's early stage of construction. The first phase of the project has been completed which included the construction of a Hiking/Biking trail, installation of a kiosk displaying park information, and placement of trail markers along the trail.
Track an adventure here

Location Details
Recreational Features:
Mountain Bike Trails, Fishing
ADA Compliant:
Seasonality:
Adventures for Farmington Community Park
Directions
Latitude: 36.009369900000
Longitude: -80.532588000000
Click here for official map and directions
The Farmington Nature Park is located on the property of the Farmington Community Center. Parking is available in the gravel lot near the baseball field and tennis courts.