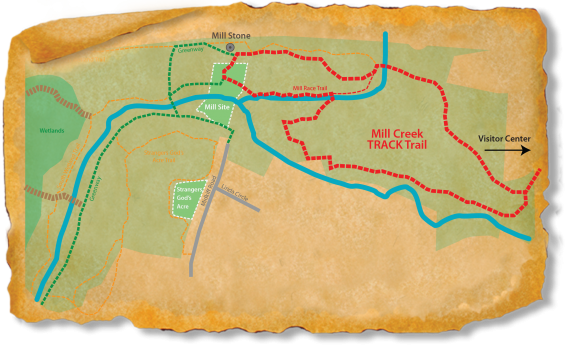 Founded in 1753 by German-speaking Moravians, Bethabara was the first European settlement in the North Carolina Piedmont. A National Historic Landmark and Local Historic District, historic Bethabara Park encompasses 183 acres of preserved wildlife, historic buildings and grounds, walking and birding trails, and protected wetlands.
The TRACK Trail at Historic Bethabara Park follows the Mill Creek Trail, a 2.3-miles loop where you can hike to the Mill Site. Thought to be the largest industrial complex in the Carolinas during the 1750s, remnants of the Bethabara Mill still sit in the creek. A millstone is also present, once used for grinding flax seeds into linseed oil.
Stop by the Visitor Center for the history of Bethabara's residents, stories of the enslaved, and the Moravians' relationship with Native groups in the region throughout the French & Indian War and Cherokee War.
Track an adventure here

Location Details
Recreational Features:
Picnic Tables, Interpretive Programs, Birding
Amenities:
Restrooms, Visitor Center, Gift Shop
Seasonality:
Open all year
Adventures for Historic Bethabara Park
Directions
Latitude: 36.155832263376
Longitude: -80.297255589924