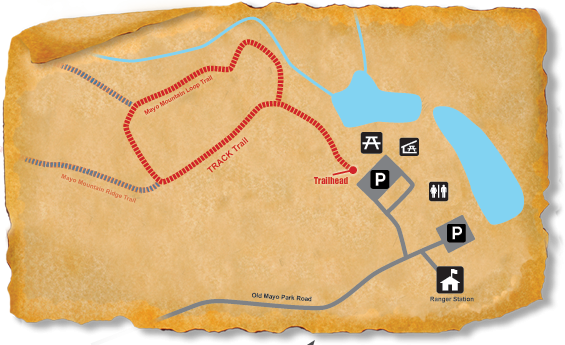 The Mayo River State Park TRACK Trail is a flat, 0.5 mile loop through the woods. There is a lot to see in the forest; look for running cedar, ferns, mushrooms, and shelters animals have made.
Created as a state park in 2003, Mayo River State Park is one of the newest North Carolina State Parks. The park offers a picnic shelter with grills (accommodates up to 100 and may be reserved), three individual picnic pads each with table and grill, two loop hiking trails (0.5 mile and 1.8 mile), rest rooms, and fishing in the two ponds (N.C. fishing license required).
Track an adventure here

Location Details
Recreational Features:
Picnic Tables, Fishing, Birding
ADA Compliant:
Seasonality:
Open all year
Adventures for Mayo River State Park
Directions
Latitude: 36.436543000000
Longitude: -79.947237700000
Mayo River State Park's Mayo Mountain Access is located in western Rockingham County near the towns of Mayodan and Stoneville, 30 minutes north of Greensboro, N.C. and 20 minutes south of Martinsville, Va. From Greensboro, take Highway 220 North to the Stoneville exit and turn left onto Highway 220 Business toward Mayodan. From Martinsville, take Highway 220 South to the Mayodan exit and turn right onto Highway 220 Business toward Mayodan. Mayo Mountain Access entrance is 1.7 miles from both exits on the right.