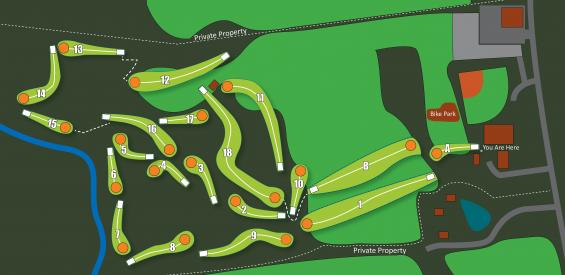 The Davie Nature Trail Disc Golf Course provides a fun and challenging experience for both beginners and advanced players alike. The course offers an extensive mix of par 3's, 4's, and 5's, with holes ranging from 170' to more than 700'. The courses use of terrain blends open spaces and tight wooded corridors, with each hole offering challenging greens that will test your layup accuracy and putting potential.
The tee-signs featured at each tee-pad offer a detailed graphic of the hole layout, and provide a series of "Pro-Tips" from our friend and U.S. Disc Golf Champion, Nate Sexton. On each hole, beginning (and advanced) players can learn a tip from Nate about how to better execute shots that will help them be more successful on that hole, or in the golf game in general.
Additionally, the Nature Trail Disc Golf Course scorecards offer players the ability to identify the most common "Birdies" found flying throughout the course, as well as the opportunity to discover "Tree Love" when their disc hits a tree. 
Hole one starts behind the Gymnasium / Community Center building, and parking can be found on the side of the building behind the pavilion. Be safe and have fun!
Track an adventure here
Location Details
Recreational Features:
Mountain Bike Trails, Disc Golf, Picnic Tables, Playground
Amenities:
Restrooms, Visitor Center
Seasonality:
Open all year
Adventures for Davie NTDGC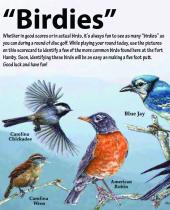 Disc Golf
Birdies
Trail length:
2.30 miles
Whether in good scores or in actual birds, it's always good to see as many "Birdies" as you can during your round of disc golf. Use the scorecard to identify some of the common bird species found flying throughout the course.
Directions
Latitude: 36.008947656521
Longitude: -80.532688941075