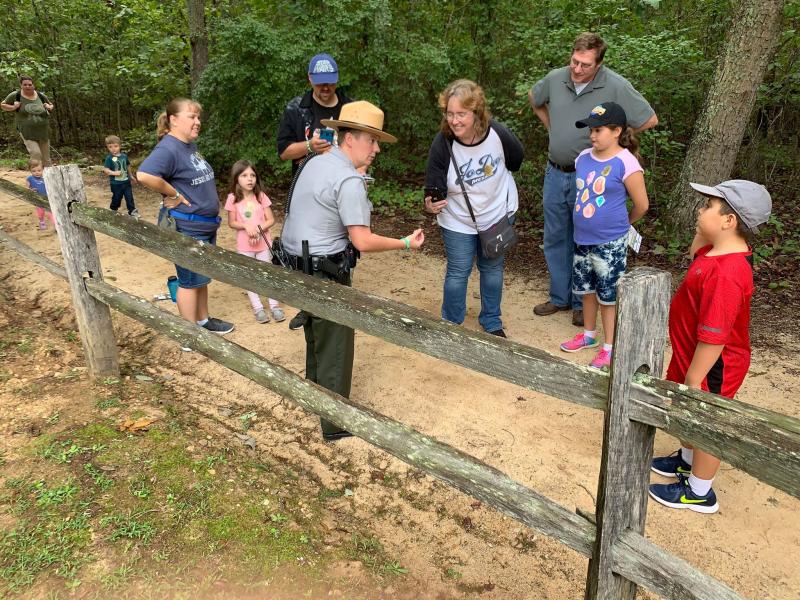 2019 was a busy and exciting year for Kids in Parks. Alongside introducing a number of new experiences to our network of trails, we saw our one-millionth adventure taken on our trails, and later celebrated our 10th anniversary. With more opportunities to get outdoors, we saw many first-time visitors to our partnering parks and sites. Even better, many visitors (81% of our registrants), old or new, said they would return to these parks/sites for more adventures in the future!
Listed below are our Top 10 Most Visited TRACK Trail sites for the year 2019. These parks, in no particular order, had the highest numbers of Kid in Parks registrations, with each park offering unique experiences across vastly different regions in the eastern United States. The descriptions share what makes each of these parks special, and why they are well worth a visit!
Blue Ridge Parkway Visitor Center
in Asheville (Milepost 384)
—
Asheville, N.C.

Located only 10 minutes from downtown Asheville is the National Park Service Visitor Center at milepost 384 on the Blue Ridge Parkway. Not only is this a great place to stop for all your Blue Ridge Parkway needs: maps, merchandise, information on the surrounding area — and, of course, restrooms — but you can venture out back and take a hike along a refreshing 1-mile loop trail through the woods. Home to our very first Kids in Parks TRACK Trail, this loop follows a section of the Mountains-to-Sea trail, a 1,175-mile trek stretching from North Carolina's mountains to its coast. It is an easy hike, perfect for all ages, that never ventures far from the Parkway.

While at the Visitor Center, be sure to check out the exhibits inside to learn more about the history of the Blue Ridge Parkway. You can also participate in the National Park Service's Junior Ranger program! Become a Junior Ranger by stopping by the visitor center to pick up activity sheets specific to the area. Complete all the activities and you will receive a special badge designed just for Blue Ridge Parkway Junior Rangers.

Click for more information  on the Visitor Center at Milepost 384 and the Blue Ridge Parkway
 
First Landing State Park
— Virginia Beach, VA

First Landing State Park is so-named because it is the site where the Virginia Company landed on Cape Henry in 1607. From here, the English colonists eventually moved westward and formed Jamestown, the first permanent English settlement in North America. Throughout history, this area has been an important source of water and transportation, but nowadays, the park offers a wide range of recreational activities for visitors across 2,888 acres, such as swimming, hiking, biking, boating, and fishing. First Landing also has a distinct natural habitat; the park is the northernmost east coast location where subtropical and temperate plants can be found growing together. Experience this unique habitat along the Bald Cypress TRACK Trail, an easy 1.8 mile loop through cypress swamp where you will see a variety of birds, trees, and insects. Dragonflies are especially prominent along this trail, and you can use the "Quest for Dragons" activity brochure to learn about the various dragonfly species that live in the park.

Click for more information on First Landing State Park
 
Carl Sandburg Home National Historic Site
— Flat Rock, N.C.

Connemara is the home of the late Carl Sandburg, a Pulitzer Prize-winning poet and biographer of Abraham Lincoln, whose family moved to the 245-acre farm in 1945. The peace and solitude of the farm, in its abundance of nature, was a quiet haven for Sandburg as he worked on his writing. Meanwhile, his wife, Lillian, used the many acres of land to raise her champion dairy goats.

Now you can experience the Sandburg's little slice of heaven for yourself, via miles of hiking trails through pastures, forests, gardens, and an orchard. The Carl Sandburg Home also offers two unique Kids in Parks adventures. The "Farm, Field and Forest" activity brochure leads kids on a search-and-find adventure around Connemara, guided by Carl Sandburg's grandchildren Paula and John Carl. The second adventure is a Citizen Science trail around Front Lake, where you visit science stations and gather data to help determine the health of the park's environment.      

Click for more information on Carl Sandburg Home National Historic Site


William B. Umstead State Park — Raleigh, N.C.
For residents and visitors of "The Triangle" region in the Piedmont of North Carolina, William B. Umstead State Park is nothing short of an oasis amid the hustle-and-bustle of the surrounding city. This 5,579-acre park is a wilderness haven that plays host to a variety of outdoor recreational activities, including hiking, fishing, and camping. There are even trails for horseback riding and mountain biking.

William B. Umstead's TRACK Trail is located along the 0.6-mile Oak Rock Trail, which is aptly named as the trail features a large oak tree that has grown out of an outcropping of rock. Also along the trail, you will find interpretive panels describing the trees found in the park. Here you can complete the Kids in Parks "Need for Trees" activity brochure: a take-along guide that will also describe some of the trees that inhabit the park and why those trees are important.

Click for more information on William B. Umstead State Park
 
Chimney Rock State Park*
— Chimney Rock, N.C.
An icon of Western North Carolina, Chimney Rock is a beloved attraction for many visitors to the region. But for those looking to expand their visit and explore other hiking opportunities, Chimney Rock State Park offers an array of trails throughout the park, including little adventures for beginner hikers. One such adventure is the Great Woodland Adventure Trail, an easy, 0.6-mile loop featuring 12 discovery stations for kids. Here you can use any of the available Kids in Parks adventure brochures, which can be found at the trailhead located near the beginning of the trail.
 
In addition to six hiking trails located within the fee-based Chimney Rock access, there are four free trails that are accessible from the Rumbling Bald access, the Eagle Rock Reserve Parking Area, and from Chimney Rock Village.

Click here for more information on Chimney Rock State Park or here to plan your trip and purchase tickets
*The TRACK Trail materials at Chimney Rock State Park are accessible within the fee-based Chimney Rock access
 
 Limberlost Trail at Shenandoah National Park — Luray, VA
Just 75 miles from the bustle of Washington, D.C., Shenandoah National Park is a recreational escape. Throughout the park are cascading waterfalls, spectacular vistas, and quiet wooded hollows. You can take a hike, meander along Skyline Drive, or go on a picnic with the family. The park's 200,000 acres of protected lands are a haven to deer, songbirds, and even the night sky as low light pollution allows for spectacular viewing of star-filled skies.

The Limberlost TRACK Trail is located in the Skyland section of the park. It is a 1.3-mile loop, built for visitors of all ages and abilities, that gently winds through sprawling mountain laurel, tall oaks, and feathery ferns. It's home to all sorts of creatures, and it's a place of many changes. Use the "Senses and Sensitivity" activity brochure to discover the signs of those changes and explore the wonders of Limberlost using your senses and imagination.

Click for more information on the Limberlost Trail
 
Hanging Rock State Park
— Danbury, N.C.
Located in the "mountains away from the mountains", Hanging Rock State Park is a great stop for waterfall enthusiasts. The park features spectacular views, set in the Sauratown Mountains (an isolated range away from the nearby Blue Ridge Mountains), where you can discover sheer cliff faces, bare rock peaks, and of course, waterfalls! The TRACK Trail at Hanging Rock begins near the Visitor Center with one trail leading to the Upper Cascades. These falls are one of the park's more picturesque features, where you can complete the Kids in Parks "Waterfall Wonders" activity brochure. The other trail leads to the Rock Garden, an impressive outcropping of natural rock formations. Round-trip, the TRACK Trail is 0.6 miles, which leaves plenty of remaining time to venture down to the nearby lake for a picnic. Or, if you are an older more experienced hiker, you can take the 1.3-mile trail to the Hanging Rock.
Hanging Rock State Park offers a variety of interpretive programs, plus opportunities for other recreational activities such as rock climbing, mountain biking, and paddling. 

Click for more information on Hanging Rock State Park
 
Pilot Mountain State Park
— Pinnacle, N.C.
Another park located in the Sauratown Mountains is the iconic Pilot Mountain State Park with its centerpiece pinnacles on Pilot Mountain. Big Pinnacle, the most recognizable for its walls of bare rock and vegetation-covered dome, has served as a navigational landmark for centuries. Nowadays, it is a destination for rock climbers. Like nearby Hanging Rock State Park, this park also offers fantastic views of the North Carolina Piedmont and the nearby Blue Ridge Mountains from its Mountain Section of the park. To the south of Pilot Mountain, the park expands to the Yadkin River Section, featuring trails along the water as well as opportunities for paddlers.
The TRACK Trail at Pilot Mountain is located in the Mountain Section of the park along the Sassafras Trail. It is a moderate 0.3-mile hike to an overlook which offers scenic views of Big

Click for more information on Pilot Mountain State Park
Prairie Ridge EcoStation
— Raleigh, NC
As early as 1540, explorers reported "savannas" in the Carolina Piedmont. These open expanses were probably the result of lightning fires or fires set by Native Americans to clear land for planting. Grazing animals such as elk and bison may have also helped maintain the prairies, and the many streams and rivers in the Piedmont created natural firebreaks, making these prairies smaller than those in the Midwest. As the Native Americans and grazing animal populations declined, so did the prairies. Only remnants remain, and the prairie at Prairie Ridge EcoStation has been created using native prairie plants.

The TRACK Trail here is an easy half-mile trail that meanders through a variety of habitats including bottomland forest, prairie grassland, ponds, and a stream. A diversity of plants, animals and other life can be found among the myriad habitats of this special place. The TRACK trail is also located near the picnic area, Nature PlaySpace, native plant garden, and the outdoor classroom, where the park offers a variety of ways for visitors to further their exploration of this amazing ecosystem.

Click for more information on Prairie Ridge EcoStation
 
Carolina Beach State Park
— Carolina Beach, N.C.
If you're looking for a diverse place to not only hike but also fish, Carolina Beach State Park is the place for you! Six miles of easy hiking trails meander through distinct coastal habitats, and fishing is available along the riverbank or from an ADA-accessible fishing deck. You can even launch a boat from the marina, where fuel, snacks, and fishing and camping supplies are available at the marina store. Refresh yourself after some time fishing by journeying over to the TRACK Trail along Snow's Cut, a man-made waterway that completed the Intracoastal Waterway in 1929, connecting it to the Cape Fear River and turning Carolina Beach State Park into a barrier island.

Rangers regularly host educational and interpretive programs to teach visitors about the fascinating history and natural diversity of the park. Most notably, the presence of the Venus flytrap is a unique feature of Carolina Beach State Park, as is the presence of other carnivorous plants such as pitcher plants, bladderworts, sundews, and butterworts. All of which you can learn about in the visitor center exhibit hall.