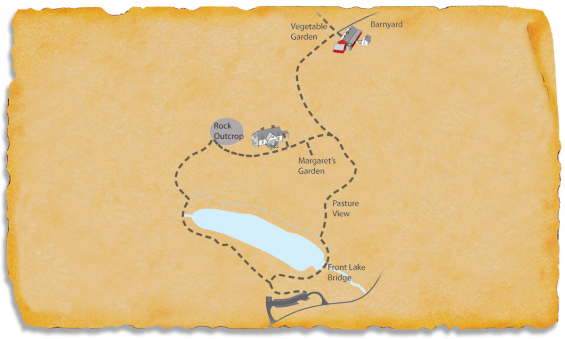 Enjoy the peaceful settings of Connemara while discovering what makes the farm, fields and forests so unique at Carl Sandburg Home National Historic Site. The TRACK Trail brochures were designed for use on any of the trails at Connemara.
Carl Sandburg Home National Historic Site preserves Connemara, the home of Pulitzer Prize-winning poet and writer Carl Sandburg. Sandburg and his family moved to this home in 1945 for the peace and solitude required for his writing and the land required for his wife, Lilian, to raise her champion dairy goats. Sandburg published more than a third of his works while he resided here.
Enjoy visiting the Sandburg residence, the goat farm, rolling pastures, mountainside woods, miles of hiking trails, two lakes, flower and vegetable gardens, and an apple orchard. Walking the mapped trail around the lake, rock outcrop, and Sandburg Home back to the parking lot is a roughly 0.8-mile loop. Take the road up past the home another 0.2-miles to the vegetable garden and barn where Lillian's champion dairy goats reside. 
Track an adventure here

Location Details
Recreational Features:
Picnic Tables, Interpretive Programs, Birding
Amenities:
Restrooms, Visitor Center, Gift Shop
Seasonality:
Open all year
Adventures for Carl Sandburg Home National Historic Site
Directions
Latitude: 35.273141800000
Longitude: -82.453088900000