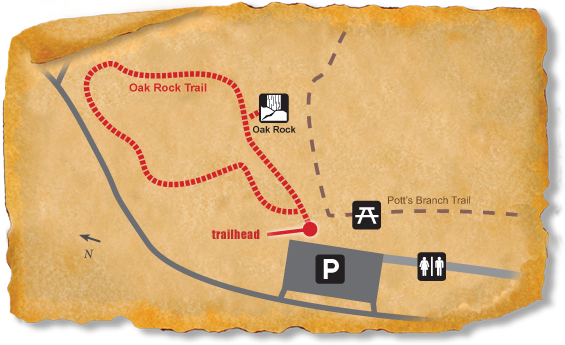 The William B. Umstead State Park TRACK Trail is an easy 0.6 mile loop that features Oak Rock – an oak tree that has grown out of a rock outcropping – and interpretive panels describing the trees found along the trail.
Tucked between the growing cities of Raleigh, Cary, Durham and the corporate world of Research Triangle Park is an oasis of tranquility, a peaceful haven. Here, two worlds merge as the sounds of civilization give way to the unhurried rhythm of nature. Highways fade in the distance as trees, flowers, birds and streams form a more natural community. William B. Umstead is a place to escape the pressures of everyday life, a place to picnic in the pines, to wait for a fish to bite, to take a hike or horseback ride on trails through the woods.
Divided into two sections, Crabtree Creek and Reedy Creek, this 5,579-acre park is easily accessible from Interstate 40 and US 70. Visit William B. Umstead State Park and enjoy this region of wilderness at the city's doorstep.
Track an adventure here

Location Details
Recreational Features:
Canoe / Kayak, Picnic Tables, Interpretive Programs, Birding
Amenities:
Restrooms, Nature Center, Visitor Center, Gift Shop
Seasonality:
Open all year
Adventures for William B. Umstead State Park
Directions
Latitude: 35.874348000000
Longitude: -78.760917000000