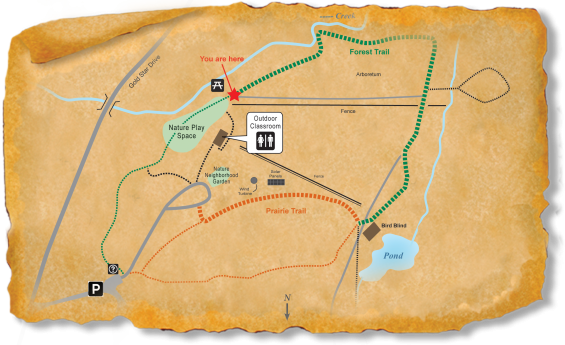 The Prairie Ridge Ecostation TRACK Trail is an easy half-mile trail that meanders through a variety of habitats including bottomland forest, prairie grassland, ponds and stream. A diversity of plants, animals and other life can be found among the myriad habitats of this special place.
As early as 1540, explorers reported "savannas" in the Carolina Piedmont. These open expanses were probably the result of lightning fires or of fires set by Native Americans to clear land for planting. Grazing animals such as elk and bison may have also helped maintain the prairies. The many streams and rivers in the Piedmont created natural firebreaks, causing these prairies to be smaller than those in the Midwest. As the Native Americans and grazing animal populations declined, so did the prairies. Remnant prairies are all that are left in North Carolina. Our prairie has been created using native prairie plants.
With the TRACK trail conveniently located near the picnic area, Nature PlaySpace, native plant garden and the outdoor classroom, we offer a variety of ways for visitors to further their exploration of this amazing ecosystem. For a longer adventure, the Reedy Creek Greenway can be accessed half-way around the loop.
Whether you're hoping to smell the sweet scent of the Purple Passionflower, taste a ripe blackberry, hear the Upland Chorus Frog, see a dragonfly swarm or touch the fluffy seeds of the Common Milkweed, we invite all ages to awaken their sense of wonder discovering Prairie Ridge EcoStation!
Track an adventure here

Location Details
Recreational Features:
Picnic Tables, Interpretive Programs, Birding, Playground
Seasonality:
Open all year
Adventures for Prairie Ridge Ecostation
Directions
Latitude: 35.812408000000
Longitude: -78.714605000000