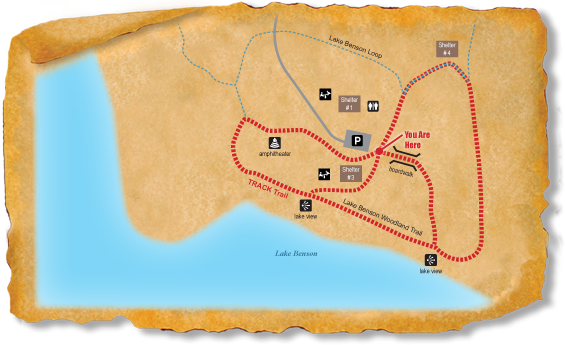 The Lake Benson Park TRACK Trail follows the Lake Benson Woodland Trail and a portion of the Loop Trail. The Lake Benson Woodland Trail is an easy 1 mile trail that makes several loops through forest habitats and along the edge of Lake Benson. The Lake Benson Woodland Trail is marked by orange markers. The Lake Benson Loop Trail is marked by blue markers.
Lake Benson Park includes walking trails (1.8 miles), and accommodates a variety of activities from family gatherings at the four picnic shelters to town-wide special events.  A restroom facility is located adjacent to shelter #1. In warm weather, fishing and boat rentals are also available at the Lake Benson Boat House (975 Buffaloe Road-662-5703), which is open seasonally for boating and fishing from Memorial Day weekend through Labor Day Weekend. Swimming is not allowed in the lake, there is no access to the Lake from the park. 
Track an adventure here

Location Details
Recreational Features:
Picnic Tables, Playground
Seasonality:
Open all year
Adventures for Lake Benson Park
Directions
Latitude: 35.671913000000
Longitude: -78.627150000000
Lake Benson Park is located at 921 Buffaloe Road, about 3 miles south of downtown Garner, NC.