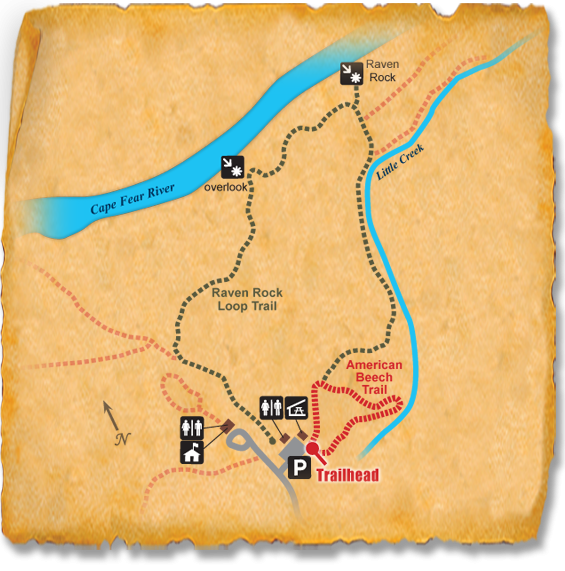 The Raven Rock State Park TRACK Trail follows an easy 0.5 mile loop along the American Beech Trail. Those seeking a longer hike may wish to continue along the 2.6 mile Raven Rock Loop.
Should the humdrum of the work week leave you with the urge to travel and explore, head to Raven Rock State Park. Adventure is just an hour's drive from the Research Triangle and only 45 minutes from the Fayetteville area. The first feeling you are likely to experience at Raven Rock is one of renewal. Here, the forest reigns as each year the timeless cycle of growth further heals age-old wounds inflicted by man. Nature triumphs as plants compete in the stages of forest succession and the woodlands are restored. High above the Cape Fear River stands Raven Rock, its austere beauty a testament to the forces that have shaped the land. As the river below rushes to join the sea, nature's elements continue to shape the surface of this natural monument.
Spend some time at Raven Rock State Park and let nature refresh your spirit.
Track an adventure here

Location Details
Recreational Features:
Canoe / Kayak, Camping, Picnic Tables, Fishing, Interpretive Programs, Birding
Amenities:
Restrooms, Visitor Center, Gift Shop
ADA Compliant:
Seasonality:
Adventures for Raven Rock State Park
Directions
Latitude: 35.460786200000
Longitude: -78.914642700000