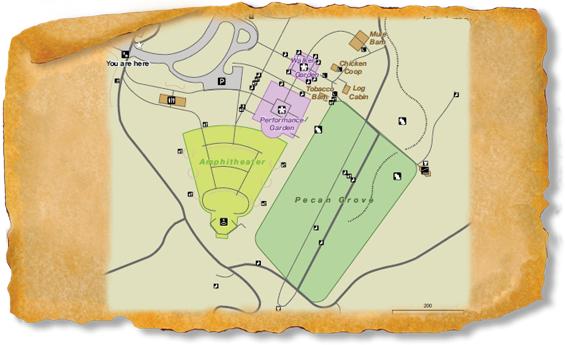 The E. Carroll Joyner Park TRACK Trail adventures can be used on any of the three miles of paved trails in the 117 acre park. Experience history firsthand by visiting the mule barn, tobacco barn, chicken coop and log cabin. Stroll through the pecan grove, which was planted during the Great Depression in the 1930's, and try to find the tallest tree. New trees have been planted to fully restore and maintain the grove. Depending on the time of year, look for butterflies and other pollinators in the meadows.
Additional Features
1,000-Lawn-Seat Amphitheater
The amphitheater is an excellent venue for the popular Six Sundays in Spring concert series which gets underway each April. The venue is also available for half-day and full-day rent.
Walker Garden
Named in honor of Willie (Will) Lee and Mamie Tee Walker, who owned the farm for 36 years before selling it to Mr. Joyner in 1982, the Walker Garden boasts a formally arranged perennial garden enclosed by a picturesque stone wall. The space is a perfect setting for reading, painting, or quiet reflection.
Performance Garden
This area offers an intimate setting that can accommodate approximately 150 people. It is ideal for poetry readings, music workshops, small symphony groups, and storytelling. The space is also availale for half-day and full-day rent.
2,000 Linear Foot Stone Ribbon Wall
Track an adventure here

Location Details
Recreational Features:
Paved Bike Path, Picnic Tables, Birding
Seasonality:
Open all year
Adventures for E. Carroll Joyner Park
Directions
Latitude: 35.998519100000
Longitude: -78.514870400000