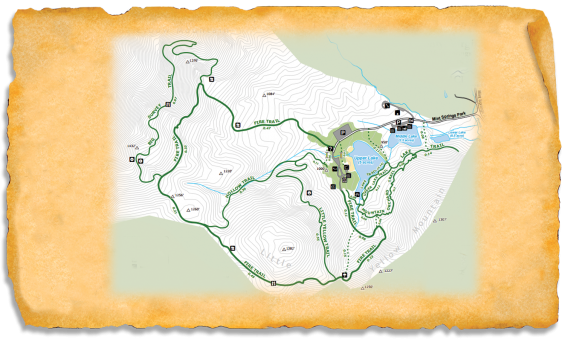 The Mint Springs Valley Park TRACK Trail adventures can be used on any of the park's trails. There are over five miles of trails in the park, from easy trails along the lake to more strenuous trails up in the mountains. Please check a park map before venturing out on to any trail.
 Mint Springs Valley Park is a 520 acre park in Albemarle County. Enjoy miles of trails, swimming and fishing in the lakes, playing in the playground and enjoying a picnic at one of the many picnic shelters. The lakes of Mint Springs once provided drinking water for the Town of Crozet. Today they serve as habitat to several species of fish, including largemouth bass, black crappie, native bluegill, bream, and stocked rainbow trout. Buck Elbow Mountain rises over 2,000 feet above Mint Springs Valley. Along the trails in the park, poplar, maple, and oak trees are common.
Track an adventure here

Location Details
Recreational Features:
Fishing, Birding, Playground
Seasonality:
Open all year
Adventures for Mint Springs Valley Park
Directions
6659 Mint Springs Park Road
Latitude: 38.083230600000
Longitude: -78.728713900000
From downtown Crozet, VA-  Turn left onto Route 788 (Rail Road Avenue); Turn right onto Route 684 (Mint Springs Road); Turn left into Park.