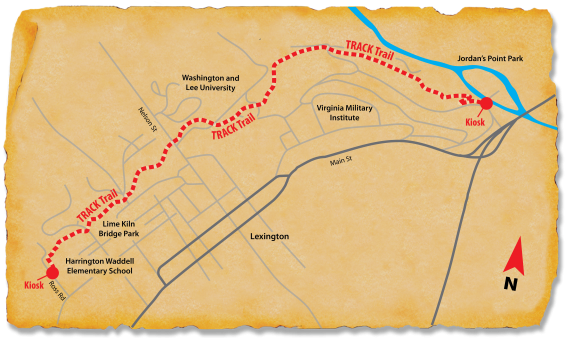 The Woods Creek TRACK Trail is a 2 ¼ mile one-way hike that takes you along Woods Creek as you travel through nature in downtown Lexington. On your journey through open and wooded areas of the trail, you'll find prime wildlife habitat for deer and other animals, including bird houses for bluebirds. Enjoy towering sycamore, walnut, and oak trees throughout the hike and views of the Blue Ridge Mountains on the Virginia Military Institute (VMI) section.
There are two kiosks to choose from: one at Jordan's Point Park and one at Harrington Waddell Elementary School. Five adventures are offered, including Nature's Hide and Seek, Nature's Relationships, Bug Out, Types of Trees, and Creek Life. The TRACK Trail brochures will help you explore the environment and learn about the things you may find on your hike. Enjoy your creekside adventure!
Track an adventure here

Location Details
Recreational Features:
Disc Golf, Picnic Tables, Birding, Playground
Seasonality:
Open all year
Adventures for Woods Creek Trail
Directions
Latitude: 37.792111000000
Longitude: -79.429453000000
"From the Lexington Visitor Center, drive west on Washington Street to a right onto Main Street (US-11 Business). Continue driving north for .9 mile past Virginia Military Institute. Turn left at the 1780 Stone House and before the overpass. Follow the access road to the left onto Stono Lane. Cross a small bridge and use the parking area for Jordan's Point Park. The trail begins next to the old Miller's House." 
https://lexingtonvirginia.com/outdoors/activities/attractions/woods-cree...
Partners
Rockbridge Community Health Foundation
Rockbridge Outdoors