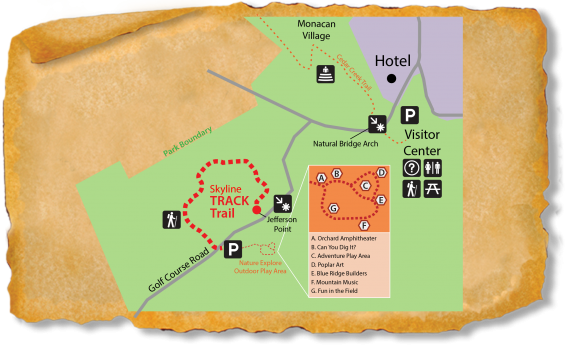 The TRACK Trail at Natural Bridge State Park follows the Skyline Trail, named for its stunning views of the Blue Ridge Mountains. This 0.6 mile trail takes you to the overlook on Jefferson Point. On your hike, you'll walk through habitat that supports many types of animals and plants. You may see deer, red tailed hawks, wild turkeys, bluebirds, and grasshoppers. Keep an eye out for pollinators like bees and butterflies among the milkweed, butterfly weed, and black-eyed susans.
Nearby is the 215-foot tall Natural Bridge, a limestone gorge carved out by Cedar Creek, with surrounding forests and rolling meadows that showcase the area's karst terrain, and vistas of surrounding mountains and the James River valley. You can access these via 6 miles of hiking trails, including the accessible Cedar Creek Trail that leads from the bridge to the Monacan Indian Village and Lace Falls with its 30-foot cascade. Living history programs connect you to the past and cover how people once used the area's resources for survival and inspiration. Start at the visitor center where you will find exhibits and a gift shop.

Later in 2020, you'll be able to visit the Nature Explore Outdoor Playground, located near the TRACK Trail.
Keywords: Natural Bridge, Virginia, VA, State Park, Roanoke, Lexington, Lynchburg
Track an adventure here

Location Details
Recreational Features:
Interpretive Programs
Amenities:
Restrooms, Visitor Center
Seasonality:
Open all year
Adventures for Natural Bridge State Park - Skyline Trail
Directions
Latitude: 37.628887200000
Longitude: -79.545158300000
Keywords: Natural Bridge, Virginia, VA, State Park, Roanoke, Lexington, Lynchburg