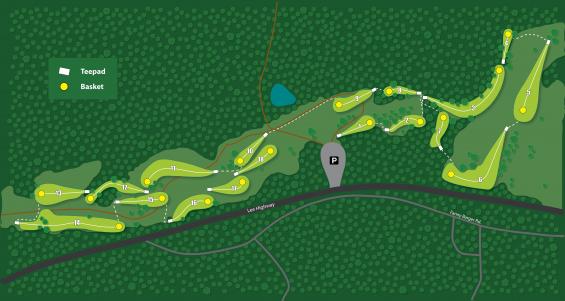 The Thistle Ridge Nature Trail Disc Golf Course offers players expansive views of the Blue Ridge Mountains. The 18-hole course features short, technical holes and long, wide open fairways designed to challenge both beginner and advanced players alike.
In addition to great disc golf holes, there are two things that make Thistle Ridge special. First, the Nature Trail Disc Golf Course plays through meadows that are managed to provide pollinator habitat for various species such as honey bees, butterflies and other insects. Look for different species of butterflies…even the migratory Monarch visits the park because of the Milkweed growing in the fields.
Second, as a way to walk-the-walk and reduce the course's environmental impact, the park has integrated GREEN construction, utilizing crushed glass bottles in several of its tee-pads. Each tee-pad contains approximately 100,000 bottles, ultimately keeping these bottles out of the landfill. As you play the course and utilize your scorecard to track your score, try to add up the total number of bottles you think the park kept out of the landfill. Hopefully, everyone will be under par!
About Natural Bridge State Park:
The 37th state park was dedicated on September 24, 2016, and was listed on the National Register of Historic Places as a National Historic Landmark in 1988. The 215-foot tall Natural Bridge is a limestone gorge carved out by Cedar Creek. The park is more than just the bridge; beautiful forests and rolling meadows showcase the area's karst terrain, and vistas of surrounding mountains and the James River valley display nature's splendor. Access the park's hiking trails, including Cedar Creek Trail, which leads from the park's Visitor Center under the bridge along Cedar Creek to Lace Falls with its 30-foot cascade. Seasonal living history programs connect you to the past and cover how people once used the area's resources for survival and inspiration. Start at the visitor center, where you will find exhibits and a gift shop.
Track an adventure here

Location Details
Recreational Features:
Disc Golf
Amenities:
Visitor Center, Gift Shop
Seasonality:
Adventures for Thistle Ridge NTDGC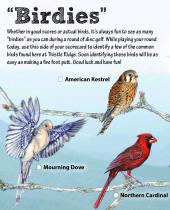 Disc Golf
Birdies
Trail length:
1.50 miles
Whether in good shots or in actual birds, it's always good to see as many "Birdies" as possible during your round of disc golf. The "Birdies" scorecard/field-guide was designed to help players identify some of the more common birds found here at Natural Bridge State Park. How many "Birdies" will you see during your round today?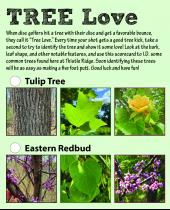 Disc Golf
Tree Love
Trail length:
1.50 miles
When disc golfers hit a tree with their disc and get a favorable bounce, they call that "Tree Love." Use the pictures on this scorecard to identify a few of the trees found here at Natural Bridge State Park. Every time you hit a tree with your frisbee, take a second to try to identify it. Look at its bark, leaf shape and other identifying features. Soon, identifying trees will be as easy as making a five foot putt.
Directions
Latitude: 37.641358000000
Longitude: -79.540070000000
From I-81, take exit 175 or 180A to U.S. 11 and follow signs to the park.
The Thistle Ridge NTDGC parking lot is located in the Blue Ridge Trailhead parking lot; which is located along Hwy 11, approximatley 1-mile North of Natural Bridge State Park's Visitor Center.
There is a parking fee of $5.00 per day for standard cars.
Drive Time: Northern Virginia, three and a half hours; Richmond, two hours; Tidewater/Norfolk/Virginia Beach, four hours; Roanoke, 30 minutes.