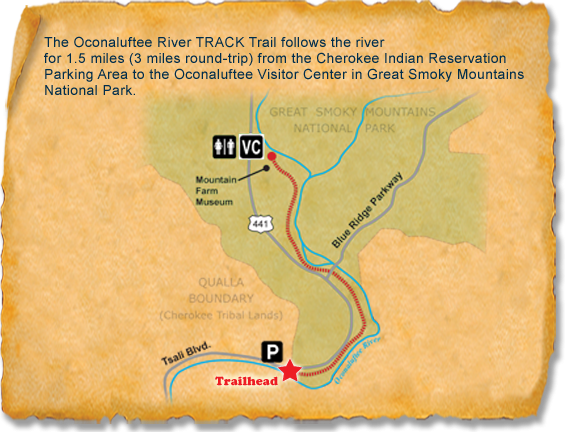 The Oconaluftee River TRACK Trail is at the junction of the Cherokee Nation (Qualla Boundary) and the Great Smoky Mountains. The trail passes under the terminus of the Blue Ridge Parkway, a 469-mile ribbon of green connecting Great Smoky Mountains National Park in North Carolina with Shenandoah National Park in Virginia. The Oconaluftee River TRACK Trail offers several scenic views of the river, as well as interpretive panels about Cherokee folklore. The trailhead sign and three of the TRACK Trail brochures have elements translated into Cherokee Syllabary.
The Eastern Band of Cherokee Indians has over 14, 500 tribal members and have lived in this region for generations. The Cherokee people continue their traditional lifestyle of fishing, hunting and gathering wild foods from the mountains as well as enjoying modern careers. The tribe operates the Cherokee Indian Hospital Authority, tribal services for visitors and member residents and Harrah's Cherokee Casino & Hotel. For more information visit https://visitcherokeenc.com.
Cherokee Choices works to mobilize the community to confront environmental and biological factors that put Cherokee people at higher risk for diabetes.
The cornerstones of this program are listening to the community and providing social support to increase physical activity and promote well-being and healthy choices, which can reduce the risk for obesity and diabetes. This approach makes Cherokee Choices different from the top-down programs typically provided by social service agencies.
Healthy Roots is a program within Cherokee Choices. The goals of this program are to increase the availability of local, traditional foods, as well as, to promote and increase the usage of trails among the members of the Cherokee community.
For more information on Healthy Roots, please call Tinker Jenks at 828-554-6788. For information on Cherokee Choices, please call Sheena Kanott at 828-554-6782.
Track an adventure here

Location Details
Recreational Features:
Amenities:
Restrooms, Visitor Center
Seasonality:
Adventures for Cherokee - Oconaluftee River Trail
Directions
Oconaluftee River Trailhead / Barclay's Parking Area
Tsali Blvd (SR-441 Northbound) at Acquoni Rd.
Latitude: 35.477057400000
Longitude: -83.320585900000
GPS Coordinates: 35.499282,-83.304333