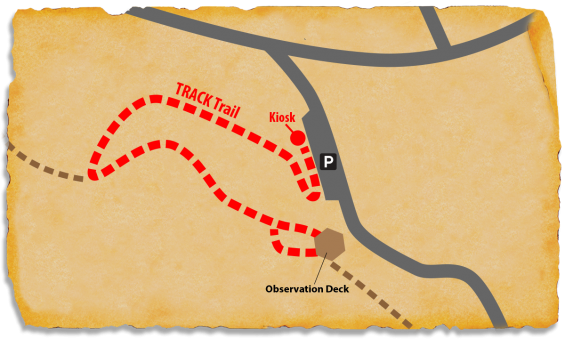 The TRACK Trail at the CCC Camp NCF-24 is a 0.25-mile out-and-back hike to an observation deck overlooking the old CCC Camp.
The camp opened in 1934 as part of the Civilian Conservation Corps (CCC) program started under President Franklin Roosevelt. While the United States was suffering economic depression, the CCC provided jobs to young men and built important infrastructure like roads and bridges across the country. Along the trail, use the brochure and read the interpretive signs to discover the history of the CCC NCF-24.
You can extend your hike by continuing on the 2.5 mile Cheoah Trail. It loops through the forest and connects to the Massey Branch Fitness Trail. You can also access the 0.7 mile fitness trail from another trailhead located
on Massey Branch Road.
Additional information about the CCC camp and other Cheoah Ranger District recreational opportunities can be found at the Cheoah Ranger Station, located directly across Massey Branch Road.
Track an adventure here

Location Details
Recreational Features:
Birding
Amenities:
ADA Compliant:
Seasonality:
Open all year
Adventures for Nantahala National Forest - CCC Camp
Directions
Latitude: 35.334385000000
Longitude: -83.826739000000