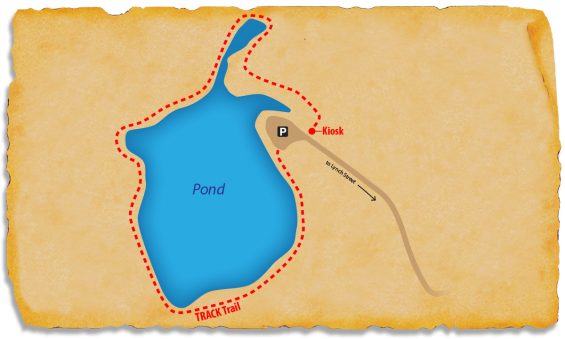 The Trevathan TRACK Trail in Fountain is an approximately 0.5 mile walk through the woods and around a pond. On your hike, keep an eye out for wildlife like dragonflies, frogs, turtles, and birds.
The TRACK Trail brochures will help you explore this environment and learn about the things you may find on your hike. Fishing is allowed in the pond only with permission.
Have fun as you travel the trail, exploring the pond and discovering its wonders.
Track an adventure here

Location Details
Recreational Features:
Picnic Tables, Fishing, Birding
Amenities:
ADA Compliant:
Seasonality:
Adventures for Trevathan Pond
Directions
Latitude: 35.678300000000
Longitude: -77.643211000000
From town center, travel north on Lynch Street for about 0.25 miles. The entrance is on the left about 300 feet north of the intersection of Lynch Street and 4th Street.
Partners
This TRACK Trail was made possible through a collaboration with Pitt Partners for Health, a program of Vidant Health.