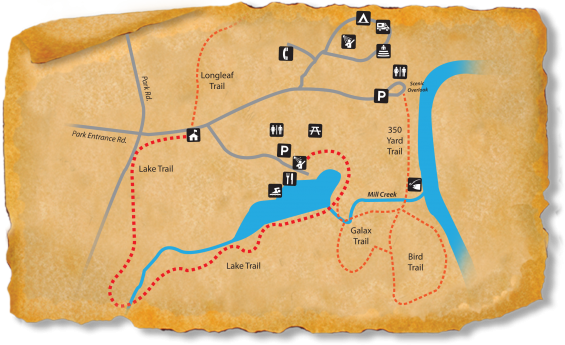 The Cliffs of the Neuse TRACK Trail is a two-mile-long moderate one-way trail, whose trailhead is located off Park Entrance Road at the park's Visitor Center. It was opened to the public in June of 2015, and has since become one of Cliffs most popular trails.
This trail winds through a previously unused, forested section of the park and provides a good look at many mature white oaks in addition to a variety of other hardwoods. With a lesser number of loblolly and longleaf pines featured, hikers who look closely may glimpse historic remnants of dead longleaf stumps that were used in the Naval Stores industry between 1750 and 1875. Hikers should expect to see white-tailed deer along this trail in the fall during the peak of the hard mast (acorn) drop.
To return to the Visitor's Center, hikers follow the main path up into the swim lake parking lot and continue on, or beside, the pavement back to the Visitor Center.
Cliffs of the Neuse State Park, with its impressive cliffs overlooking the Neuse River, has been a landmark for centuries. Five hiking trails explore the riverside habitats and their mature forests and lead to some quiet fishing spots along the waterway. A favorite facility for the local communities is an 11-acre swimming lake with a bathhouse, grass-covered lawn, sandy beach and diving platform with rental boats available. Expansive picnic grounds are nearby. The park has group campsites and a 35-site family campground. A visitor center offers museum-quality exhibits that explore the natural and cultural history of the region, complementing regular interpretive programs.
Track an adventure here

Location Details
Recreational Features:
Canoe / Kayak, Camping, Picnic Tables, Fishing
Amenities:
Restrooms, Visitor Center, Food Service
Seasonality:
Open all year
Adventures for Cliffs of the Neuse State Park
Directions
Latitude: 35.234846900000
Longitude: -77.895394600000