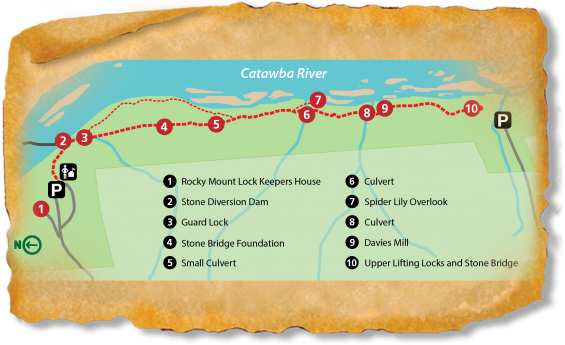 Hike along and through the well-preserved ruins of the historic Landsford Canal. Situated along the Catawba River south of Rock Hill, the Landsford Canal State Park offers an excellent hiking trail that provides visitors with access to both natural and historic resources.
The TRACK Trail takes visitors past canal ruins, providing visitors with an incredible historical experience. The trail, and its site-specific brochure, allows visitors to learn what it may have been like to travel during the 1800s. The canal's guard lock, lifting locks, and mill site provide visitors with up-close views of stone structures that once helped canal boats traverse up and down the Catawba River.
The park is also home to a diverse population of plants and animals, and the trail brochures will help you discover the trees, birds, and other species that call the park home. Landsford Canal is also home to one of the largest known stands of the Rocky Shoals Spider Lily, a flowering species found in the southeast. Thousands of visitors come to the park each year when the flowers bloom.
Admission into the park is: $6 per adult (16 years an olders); $3.75 for seniors (65 and older); $3.50 for children ages 6-15; and free for children 5 and under.
Track an adventure here

Location Details
Recreational Features:
Picnic Tables, Fishing, Interpretive Programs, Birding, Photography
Amenities:
Restrooms, Visitor Center
Seasonality:
Open all year
Adventures for Landsford Canal State Park
Directions
Latitude: 34.788611000000
Longitude: -80.878611000000
Driving Directions:
I-77 Southbound: Take exit 77 to Highway 5 & 21. Turn left (south), travel 16 mi. to the Landsford Canal State Park sign and turn left. The park entrance is on the left.

I-77 Northbound: Take exit 65 to Highway 9. Turn rt. and travel 2 mi. to Hwy 223. Turn left on Hwy. 223 and travel 9 mi. to Hwy. 21. At Hwy. 21 turn left and travel 2 mi. to the State Park sign. Turn right and the park entrance will be on the left.