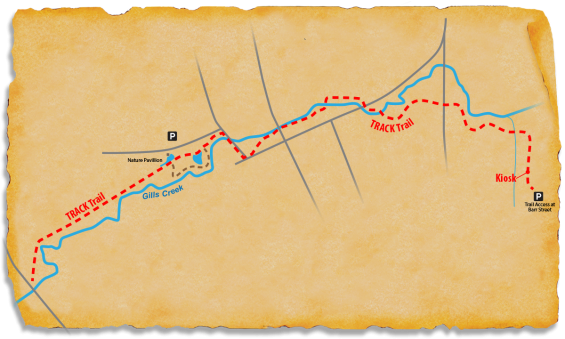 The Lindsay Pettus Greenway TRACK Trail is an easy 2.2-mile long trail that is ADA accessible. With a combination of smooth pavement and beautiful boardwalks along its entire length, the Lindsay Pettus Greenway provides families with a soothing walk (or bike / scooter ride) through some beautiful scenery right next to downtown Lancaster.
The TRACK Trail brochures will encourage kids and families to have Fun with Fungus, learn about Rivers through the Ages, live that Pond Life, and allow them to become Animal Athletes as they make their way through wooded forests, along wetlands, and through sandy creek bottoms.
The Lindsay Pettus Greenway also connects four schools with the neighboring community: North Elementary, Clinton Elementary, Lancaster High, and the Barr Street Learning Center. 
NOTE: the Lindsay Pettus Greenway crosses roadways at Roddey Dr., Main Street, and Clinton Ave. Please use the crosswalks and ensure it is safe to cross before crossing. 
Track an adventure here

Location Details
Recreational Features:
Paved Bike Path, Picnic Tables, Birding
Seasonality:
Open all year
Adventures for Lindsay Pettus Greenway
Directions
Latitude: 34.727325478000
Longitude: -80.764232540000
The Lindsay Pettus Greenway TRACK Trail trailhead is located behind the Barr Street Education Center campus. When entering from Barr Street, drive to the back of the property and park in the parking lot near the restroom and trailhead signage.
The TRACK Trail trailhead sign is located 100 yards down the greenway.