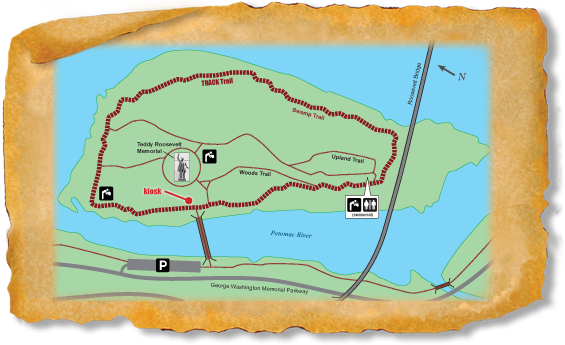 The George Washington Memorial Parkway TRACK Trail follows the Swamp Trail on Theodore Roosevelt Island. The Swamp Trail is an easy 1.3 mile loop through wetlands featuring views of the Potomac River and Washington, DC.
In the 1930s landscape architects transformed Mason's Island from neglected, overgrown farmland into Theodore Roosevelt Island, a memorial to America's 26th president. They conceived a "real forest" designed to mimic the natural forest that once covered the island. Today miles of trails through wooded uplands and swampy bottomlands honor the legacy of a great outdoorsman and conservationist
The George Washington Memorial Parkway was designed for recreational driving. It links sites that commemorate important episodes in American history and preserve habitat for local wildlife. The parkway and its associated trails provide a scenic place to play and rest in the busy Washington, DC metropolitan area.
Track an adventure here

Location Details
Recreational Features:
Paved Bike Path
Seasonality:
Open all year
Adventures for George Washington Memorial Parkway
Directions
Memorial Ave/Bridge Circle
Latitude: 38.904236500000
Longitude: -77.052128900000
Directions:
Theodore Roosevelt Island is located on the George Washington Memorial Parkway near Rosslyn, Virginia. By car, Theodore Roosevelt Island can only be reached from the northbound lanes of the George Washington Memorial Parkway.
**** Brochures can be picked up at the Turkey Run Visitor Center. Brochures are currently not available on the island. 
TDR Island is also accessible by metro, bike and foot. Please visit the NPS website for details: http://www.nps.gov/this/planyourvisit/directions.htm