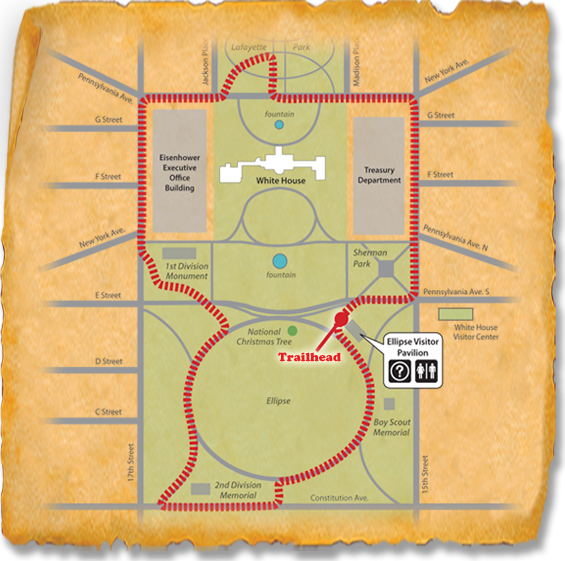 The President's Park TRACK Trail adventure follows a 1.5 mile loop around the White House and features many historic buildings and monuments.
Due to high volume of visitors, paper brochures are not available. Please download or print the brochure prior to your hike.
Located in the center of downtown Washington, DC, President's Park includes the park land and gardens surrounding the White House. Amid the vibrant city life of our nation's capital, President's Park offers visitors, district residents, and even the President of the United States restorative green space, awe-inspiring memorials, and the White House itself to contemplate as a symbol of the United States and democracy.
Whether you are a regular local or just visiting President's Park, there are numerous activities and special events in which to participate. If you are able, take a tour of the White House or take a moment to pause and have your picture taken in front of the White House. Stop by the White House Visitor Center for maps and brochures or take a stroll through the park to enjoy the atmosphere. You might catch a glimpse of one of the hawks that inhabit the White House grounds or see Marine One land on the White House lawn!
Many opportunities for unique experiences await you at President's Park. Located just a short walk away are the National Mall, Smithsonian museums, and other cultural attractions.The links below and at left will help you get started planning your trip to the White House and our nation's capital.
Track an adventure here

Location Details
Recreational Features:
Picnic Tables, Interpretive Programs, Birding
Amenities:
Restrooms, Visitor Center, Gift Shop
ADA Compliant:
Seasonality:
Adventures for President's Park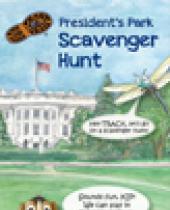 Hiking
President's Park Scavenger Hunt
Difficulty:
Easy
Trail length:
1.50
With the President's Park Scavenger Hunt brochure, you can discover beautiful monuments and amazing stories about the creation of Washington, DC and the growth of our nation. Don't forget to take a picture of the White House!  
Directions
1600 Pennsylvania Avenue Northwest Washington, DC 20500
Latitude: 38.897837800000
Longitude: -77.036512300000
For Official Directions Click Here
The Ellipse Visitor Pavilion is located just west of the corner of 15th and E Streets, NW.
GPS coordinates: N 38 53.698 W 077 02.095 Latitude/Longitude: N38 53 41.88 W-77 2 5.70 (38.894967, -77.034917)
We strongly encourage the use of public transportation as there is no public parking at the temporary visitor center / Ellipse Visitor Pavilion complex and nearby parking is very limited.
Parking
The closest Metrorail stations to the White House are Federal Triangle (blue and orange lines) and Metro Center (red, blue and orange lines). Because on-street parking is limited, we strongly encourage the use of public transportation.
The Ronald Reagan Building and International Trade Center, located a block away from the White House Visitor Center, has an underground parking garage. Access is available via 13½ Street (off Pennsylvania Avenue) and via two entrances on 14th Street from 5 am until 2 am. Rates vary from $10 for one hour up to $23 for all day. Please note that all visitors and vehicles are screened upon entry.