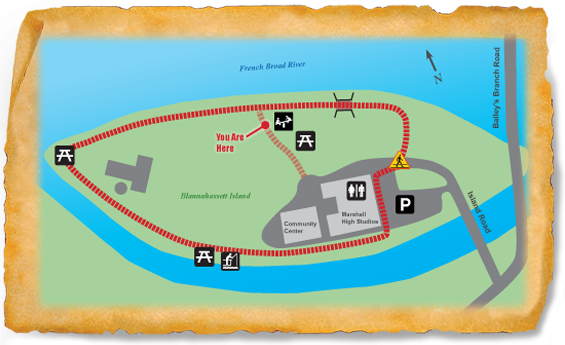 The Town of Marshall TRACK Trail is located on Blannahassett Island's loop trail. The TRACK trail is a flat trail that is 0.5 miles round-trip with gorgeous views of the French Broad River and surrounding mountains. Blannahassett Island also has picnic areas, fishing, and the restored Marshall High Studios.
A quick walk or drive over the river takes you to downtown Marshall. Marshall is a rich crossroads of rural Appalachian History which is interwoven in its existing craft and music culture.  Main Street, lined with original buildings including our century-old courthouse, is home to artists' studios, galleries, music and dance venues, and eclectic shops. Bluegrass and old-time music is played throughout the year. To learn more, visit The Town of Marshall website.
Track an adventure here

Location Details
Recreational Features:
Seasonality:
Open all year
Adventures for Blannahassett Island
Directions
Latitude: 35.796695200000
Longitude: -82.687156800000
Marshall is 22 miles northwest of Asheville, 10 miles from the college community of Mars Hill, 10 miles from I-26, and 10 miles from the Appalachian Trail.
**** Brochures are currently not available on the island. Brochures can be picked up at the Town Hall at 180 S Main St, Marshall, NC Monday through Friday 8AM-4:30PM.