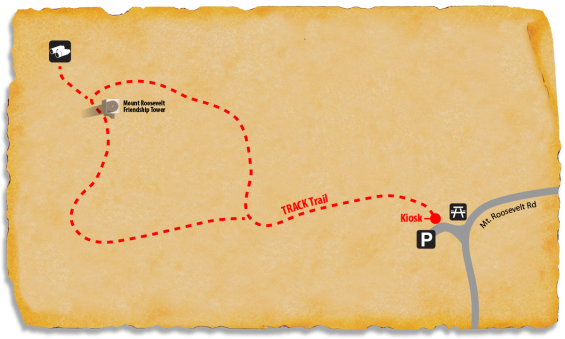 The TRACK Trail to the Mount Roosevelt Friendship Tower is a moderate 0.6-mile loop hike.
The historic tower stands at the summit. It was built by the Society of Black Hills Pioneers in 1919 under the leadership of Captain Seth Bullock of Deadwood and dedicated to his friend, President Theodore Roosevelt.
From the top, you can see the beautiful landscape that was so special to these good friends. You may spot Bear Butte to the northeast and up to fifteen other buttes and peaks on a clear day.
Have fun as you travel the trail, exploring the Black Hills, and discovering its wonders!
Track an adventure here

Location Details
Recreational Features:
Picnic Tables, Birding, Photography
Amenities:
Seasonality:
Open all year
Adventures for Black Hills National Forest - Mount Roosevelt Friendship Tower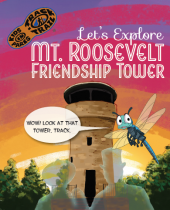 Hiking
Let's Explore Mount Roosevelt Friendship Tower
Difficulty:
Moderate
Trail length:
0.60
Seth Bullock and Theodore Roosevelt met on the Dakota plains in 1892. It was the beginning of a friendship that would last the rest of their lives and shape the future of the country.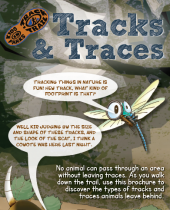 Hiking
Tracks & Traces
Difficulty:
Easy
Trail length:
0.60
No animal can pass through an area without leaving traces. As you walk down the trail, use this brochure to discover the types of tracks and traces animals leave behind.
Hiking
Birds of the Black Hills
Difficulty:
Moderate
Trail length:
0.60
In the Black Hills, over 300 bird species can be found. From the tree tops to the ground, whether by sight or sound, birds can be found all around.
Directions
Black Hills National Forest, Mt Roosevelt Rd
Latitude: 44.396905000000
Longitude: -103.754218000000
From Deadwood, South Dakota take US Highway 85 north for 1.5 miles. Turn west on Forest Service Road 133 and drive for about 2 miles to the Mt. Roosevelt Picnic area. The trail begins at the picnic area.