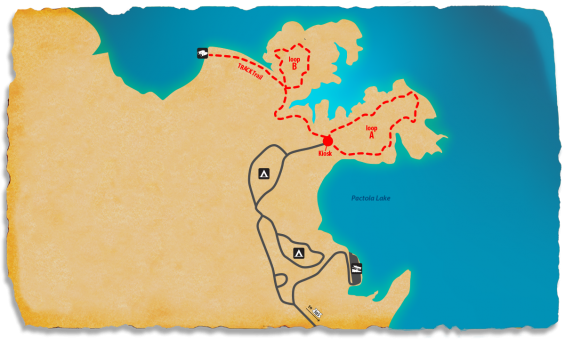 The Osprey TRACK Trail is an easy 2.2-mile trail featuring two loops and a spur out to a beautiful overlook of Pactola Lake.
Along the way, you will trek through the meadows and pine forests that create the banks of the lake.
In spring and summer, wildflowers turn the meadows into a coloful natural painting. Be sure to look up, though. Abundant lake views will offer the chance to see soaring and swooping birds of prey. The lake is a favorite hunting groud for ospreys and bald eagles.
Have fun as you travel the trail, exploring the Black Hills, and discovering its wonders.
Track an adventure here

Location Details
Recreational Features:
Mountain Bike Trails, Camping, Picnic Tables, Birding, Photography
Seasonality:
Open all year
Adventures for Black Hills National Forest - Osprey Trail Pactola Lake
Directions
17469-17485 Custer Gulch Rd
Latitude: 44.071098000000
Longitude: -103.502709000000
From Rapid City, travel about 15 miles west on Highway 44.  Turn south (left) onto Highway 385 and continue for 2.7 miles.  Just after the Pactola Visitor's Center turn west (right) onto Custer Gulch Road.  Wind along the lake, past the beach for 1.4 miles before you turn north (right) following the signs to Pactola Campground.  Go all the way through to the end of the campground facility past the fee booth to the trailhead.