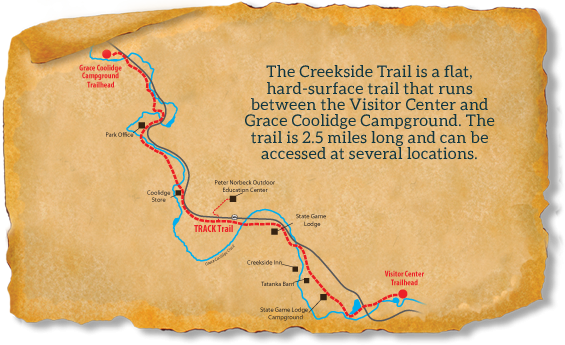 The Custer State Park TRACK Trail was superimposed on the Park's Creekside Trail – a hard-surface trail that runs between the Visitor Center and Grace Coolidge Campground. The trail is 2.5 miles long (in each direction), and can be accessed at several locations. Although the TRACK Trail is located on the Park's Creekside Trail, our brochure-led adventures were designed to be used on any of the Park's trails. From discovering things hiding in nature, to finding relationships, to learning how to identify native trees and birds, our brochures will help you discover some of the natural, cultural and historic resources that make Custer State Park such a special place. The TRACK Trail trailhead kiosk is located near the Visitor Center.
Custer State Park is located in the Black Hills of South Dakota… an area rich in history, culture and natural resources. Encompassing 71,000 acres of spectacular terrain and an abundance of wildlife, you're sure to discover a world of adventure in Custer State Park!

Easily accessible from US Highway 16A, Custer State Park offers incredible scenery, abundant wildlife viewing, historical and cultural resources, educational programs, camping, fishing, hunting and a Kids in Parks TRACK Trail.
Track an adventure here

Location Details
Recreational Features:
Amenities:
ADA Compliant:
Seasonality:
Adventures for Custer State Park
Directions
Latitude: 43.761833300000
Longitude: -103.377341700000
The Game Lodge Campground is located near the junction of US HWY 16A and the Wildlife Loop Road, near the State Game Lodge and Peter Norbeck Visitor Center.
GPS Directions:
Custer State Park
13329 US HWY 16A
Custer, SD 57730
Latitude, 43.760274. Longitude, -103.4.