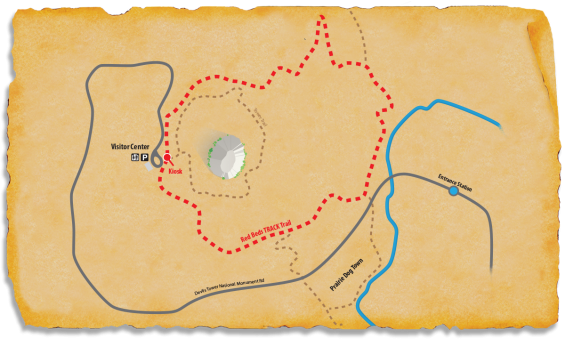 The Devils Tower TRACK Trail follows the Red Beds Trail which is a 2.8 mile loop offering wonderful views of the Tower and Belle Fourche River Valley.  The trail starts at the Visitor Center and traverses ponderosa pine forests and wildflower meadows as it circles around the park's main attraction, Devils Tower.
Throughout history, people have been drawn to the 867 foot phonolite tower, investigation the many cracks and crevices. Now, it's your turn to discover this special place.
Track an adventure here

Location Details
Recreational Features:
Interpretive Programs, Birding
Amenities:
Restrooms, Visitor Center, Gift Shop
ADA Compliant:
Seasonality:
Adventures for Devils Tower National Monument
Hiking
Hikin' to Find Lichen
Difficulty:
Moderate
Trail length:
2.80
This brochure-led adventure takes kids deep into the mysterious world of lichen. Kids will discover the three different forms lichen can take, and some of the features that make the lichen lifestyle unique. Kids will also read the Lichen story about Alice Algae and Freddy Fungi to help them remember how lichens work.
Hiking
Animal Athletes
Difficulty:
Moderate
Trail length:
2.80
The Animal Athletes adventure challenges kids to exercise with the animals. This brochure gives kids eight different animal exercises they can do along the trail. From hummingbird hand-swings to lizard pushups, kids are sure to have fun getting in shape with the animals during their outdoor adventures.
Hiking
Nature's Hide & Seek
Difficulty:
Moderate
Trail length:
2.80
The Nature's Hide & Seek brochure is designed so that kids of all ages can walk along the trail and discover common things that are often overlooked in nature. Some of them are hard to find, others are easy. Best of all, the adventure never ends because every time you walk the trail you will discover new things hiding in nature.
Directions
Latitude: 44.590289100000
Longitude: -104.720499500000