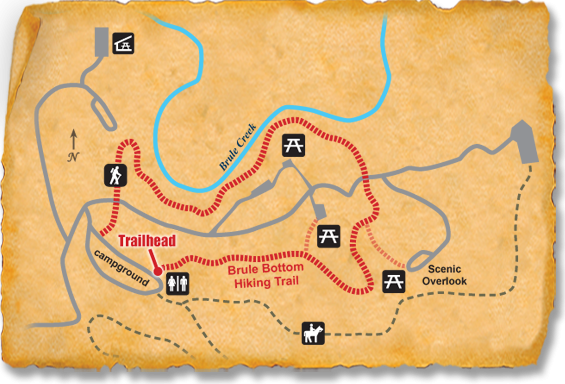 The Union Grove State Park TRACK Trail follows the Brule Bottom hiking trail. This moderate 1.2 mile loop features views of Brule Creek and offshoots to a picnic area and scenic overlooks.
The trail winds through the forested hills and passes by Borule Creek. Along the hike, walkers will wind through a lush bur oak forest intermixed with many other species of trees, plants birds and other animals. Rich glacial soils support a lush growth of native woods in this hidden treasure. Horseback riders, hikers, bikers and cross-country skiers enjoy several miles of trail through the forest along Brule Creek. The trees and plants attract a variety of birds sure to keep botanists and birdwatchers entertained for hours. Campers enjoy the quiet well-shaded campsites, and the horse camp is the perfect base for a weekend of riding.
History
Union Grove State Park began as a County Park around 1936. The Brule Creek was dammed to create a small lake. The lake has since filled with silt and the dam was removed. The land was leased to the State of South Dakota in 1946. Since then the park has been host to residents and vacationers alike.
Nature Observation
Deer, wild turkeys, beaver and many small animals abound in the park as well as a variety of trees and plant life. Birdwatchers will enjoy the opportunities to see many species of birds including cardinals, orioles, goesbeaks, warblers, red-winged blackbirds, bluejays, pheasants and wild turkeys.
The park is ablaze with color during the fall. Leaves changing color and the variety of birds attracted to ripening fruit trees create a spectacular autumn festival. Many area residents plan a fall trip to Union Grove to see the colorful show.
Track an adventure here

Location Details
Recreational Features:
Mountain Bike Trails, Camping, Picnic Tables, Interpretive Programs, Birding
Seasonality:
Open all year
Adventures for Union Grove State Park
Directions
Latitude: 42.915554400000
Longitude: -96.785587300000
Southeastern South Dakota: 11 miles south of Beresford off I-29, Exit 38