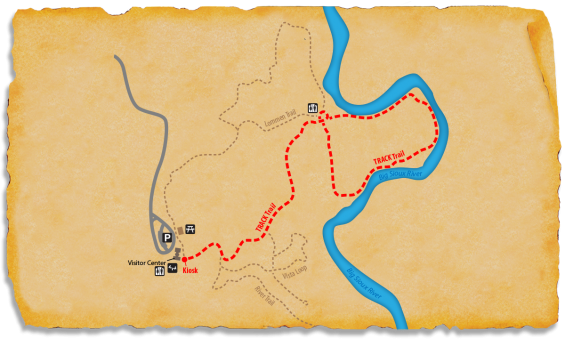 The TRACK Trail at Good Earth State Park is a 2.25-mile roundtrip hike that follows the Basswood Trail and Cottonwood Loop.
The TRACK Trail brochures will help you explore features of the prairie, woodland, and river ecosystems.
Good Earth State Park southeast of Sioux Falls is an important cultural and historical site as well as a unique nature retreat close to the most populated area of the state. The site itself is one of the oldest sites of long-term human habitation in the United States. The river, abundant wildlife, fertile flood plains, availability of pipestone (catlinite) and protection from winds made the area an important gathering place for seasonal ceremonies and a significant trading center for many tribal peoples from 1300 - 1700 A.D.
Track an adventure here

Location Details
Recreational Features:
Picnic Tables, Birding, Playground
Amenities:
Restrooms, Visitor Center
Seasonality:
Adventures for Good Earth State Park
Directions
Latitude: 43.486593200000
Longitude: -96.608532100000
Partners
The Pelican Lake Recreation Area TRACK Trail is made possible through a partnership between between the Blue Ridge Parkway Foundation's Kids in Parks program and the South Dakota State Parks Department.