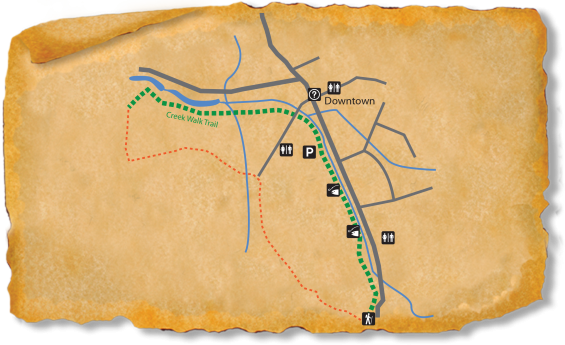 The Bakersville TRACK Trail follows the 0.6 mile Creek Walk trail along the Cane Creek. If you head south on the trail, you observe a variety of plant life along the creek, including ferns, many types of trees and a few rhododenrdron. Head north for more open field where there is a playgroud and areas for playing sports.
Bakersville is a small town in the Blue Ridge Mountains of North Carolina, known for its picturesque beauty and is filled with history, art and artists, and Southern Appalachian culture.  It is named for the settler who owned much of the land in the area, David Baker. The town is located within the floodplains of the Cane Creek and the town has flooded on several occasions in the past.
The Bakersville Creekwalk is a project that came together after the devastating flood of 1998. 
Despite its potential for destruction, Cane Creek is a beautiful natural asset within the town that has been developed to provided a greenway with fishing piers, bridges, and recreational sports fields. 
The Town also takes pride in their Rhododendron Festival which is an annual event that started in 1946.
Track an adventure here

Location Details
Recreational Features:
Paved Bike Path, Picnic Tables, Fishing, Playground
Seasonality:
Open all year
Adventures for Town of Bakersville Creek Walk
Directions
Latitude: 36.014926700000
Longitude: -82.158616300000