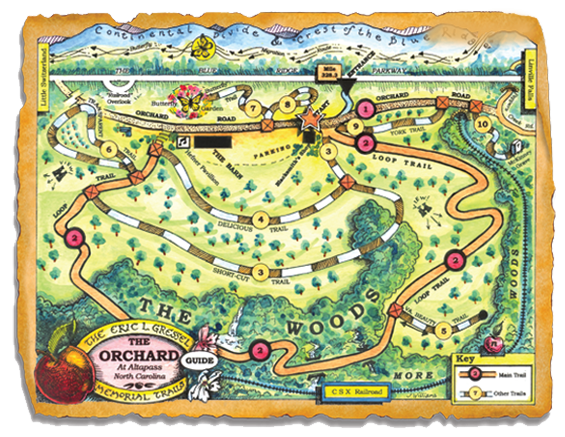 The Orchard at Altapass TRACK Trail is located along a series of newly opened trails at the Historic Apple Orchard called the Eric L. Gressel Memorial Trails. The trails will lead visitors along groves of apple trees, through a cove of woods overlooking the Altapass (Eastern Continental Divide), near the historic Clinchfield Railroad Line and past the gravesite of the famous Charlie McKinney – a local legend.
The owners, Bill and Judy Carson, believe the trail network showcases all the "good stuff" the Orchard offers its visitors. In addition to the bluegrass music, apple picking, and hayrides, folks now can take a healthy hike, scamper, stroll, or jog throughout the property, and uncover its cultural, historical, and natural riches.
Track an adventure here

Location Details
Recreational Features:
Picnic Tables, Interpretive Programs, Birding
Amenities:
Restrooms, Visitor Center, Gift Shop
Seasonality:
Open all year
Adventures for The Orchard at Altapass
Directions
Latitude: 35.875540600000
Longitude: -82.024560100000
Directions
1025 Orchard Road, Spruce Pine NC 28777
Milepost 328.3 on The Blue Ridge Parkway
From the north: From Hwy 19-E, turn south on  NC 226 at Spruce Pine, NC and travel about 5 miles to the entrance to The Blue Ridge Parkway (across from the NC Minerals Museum).
From the south: Take exit 86 on I-40. Follow NC 226/US 221 past Marion and WalMart. In about 9 miles, turn left, following NC 226 as it separates from US 221. In another mile, NC 226 turns right and heads up the mountain.  At the top (road T's),  turn right, under the Parkway overpass and immediately follow signs up to The Blue Ridge Parkway. Then follow the directions below.

At the Mineral Museum: Take the Parkway NORTH (left).  Pass 2 scenic overlooks and then look for a small horizontal sign for Orchard Road (3 miles from the Spruce Pine Parkway entrance.) This entrance to Orchard Road leads you quickly to The Orchard and to the red packing house.
Click here for a map.