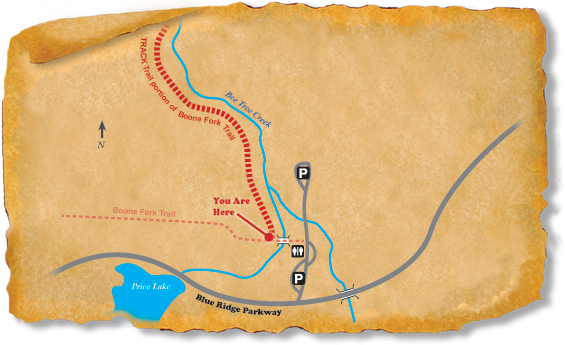 The Julian Price Memorial Park Picnic Area TRACK Trail adventures are for use on a portion of the Boone Fork trail from the bridge by the restrooms to the rock overhang. The TRACK Trail portion of the Boone Fork Trail is a kid-friendly 0.7 mile walk (1.4 miles round-trip).
The first section of the TRACK Trail is wide and flat through an open field and forest with nice views of the creek. The last 1/3 of the trail winds through a dense forest; during rainy periods this section may become muddy. The entire Boone Fork Trail is a 5 mile loop and includes several strenuous sections that may not be suitable for young children. 
In addition to the TRACK Trail, another fun and exciting program for youth to do on the Blue Ridge Parkway is the Junior Ranger program! Become a Junior Ranger by stopping at any visitor center to pick up activity sheets specific to the local area. Complete the activities and promise to help care for and learn about America's National Parks to earn stickers, badges, and patches. Complete all 10 activity sheets for the Parkway and you will receive a special badge designed just for Blue Ridge Parkway Junior Rangers.
Track an adventure here

Location Details
Recreational Features:
Camping, Picnic Tables, Birding
ADA Compliant:
Seasonality:
Open all year
Adventures for Blue Ridge Parkway - Julian Price Memorial Park - Picnic Area
Directions
Latitude: 36.139653000000
Longitude: -81.727413000000
The Price Memorial Park Picnic Area is located at milepost 396.4 on the Blue Ridge Parkway, 10 minutes west of downtown Blowing Rock, North Carolina. From downtown Blowing Rock, follow on US 221 South for 1/2 miles. Turn right on 1552 (Shulls Mills Road) and continue on the Blue Ridge Parkway (south) for 2.5 miles. Parking lot will be on your right (north).