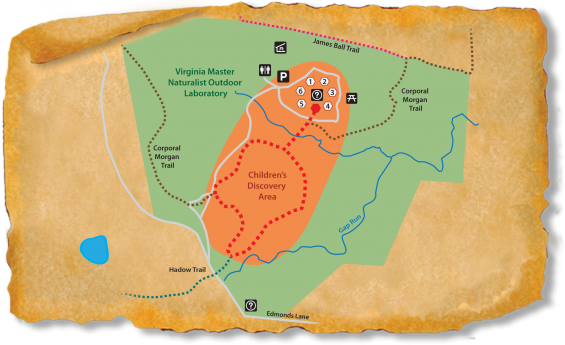 As an element of Virginia's Sky Meadows State Park CHILDREN'S DISCOVERY AREA, this TRACK Trail provides ample opportunities to relax, explore, and discover nature. The CDA also includes a certified "Outdoor Classroom" and is nestled in a 76 acre Outdoor Laboratory managed by Shenandoah Chapter of the Virginia Master Naturalists. An easy 3/4 mile loop trail is designed to engage novice hikers, young and old, helping them begin a lifetime of trail enjoyment. With ample benches along its length, you will cross streams, pass through woodlands and traverse meadows before returning to your starting point. The route is well marked.
Sky Meadows State Park, a working farm, preserves pastoral landscapes carved from vast oak, hickory and chestnut forests by early settlers.  Nearly three hundred years of agriculture combined with the forces of nature evolved into an even more diverse community of plants and animals waiting to be discovered.  During your visit, tour the historic Mount Bleak House, log cabin, wash house and barns that reveal the story of toil in the land.  Relax and fish in Turner Pond, originally established to water cattle.  As you gain confidence, return to experience surprises around every turn of 22 miles of trails including portions of the Appalachian Trail.
Surrounding Sky Meadows State Park, you will find the small communities of Marshall, Paris, Upperville and Middleburg with their quaint shops, antique stores and eateries.  Within a short drive of the park visit U-Pick orchards and gardens and wineries dot the landscape.  Just over the mountain are Burwell Morgan Mill and the State Arboretum at Blandy Farm.  All in all, you will want to return to Sky Meadows State Park time and time again!
Track an adventure here

Location Details
Recreational Features:
Camping, Picnic Tables, Fishing, Interpretive Programs, Playground
Amenities:
Restrooms, Visitor Center, Gift Shop
Seasonality:
Open all year
Adventures for Sky Meadows State Park
Directions
Latitude: 38.985120400000
Longitude: -77.956879600000
About 45 miles from DC and 20 miles from Winchester; GPS Sky Meadows State Park, 11012 Edmonds Lane, Delaplane, Virginia, 20144.  From the Main Entrance (St Rt. 17 and 710) travel .5 miles through the main gate where you will pay your $5 parking fee (good for the whole day!).  Take the next right following the signs to the picnic area.  In .3 miles you will arrive at the Children's Discovery Area and TRACK Trail trailhead.