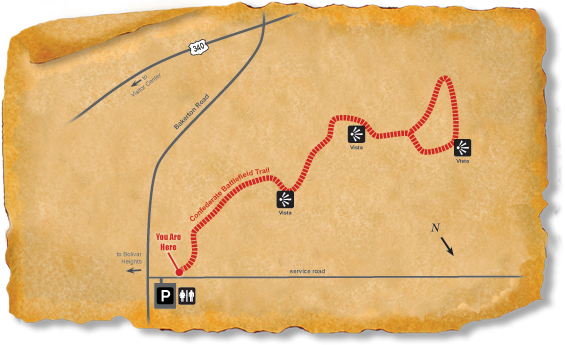 The Harpers Ferry National Historical Park TRACK Trail is along the Confederate Battlefield Trail. The 1.4 mile loop features views of the Blue Ridge Mountains, the Potomac River water gap and the Shenandoah Valley.
The trail loops up on to Schoolhouse Ridge which was one of General T. "Stonewall" Jackson's main battle lines during the Civil War. Under Jackson's command, the Confederacy captured 12,5000 Union troops, the largest surrender of Federal forces during the entire Civil War.
Track an adventure here

Location Details
Recreational Features:
ADA Compliant:
Seasonality:
Adventures for Harpers Ferry National Historical Park
Directions
Latitude: 39.325378600000
Longitude: -77.738881800000
The Harpers Ferry National Historical Park Visitor Center is 171 Shoreline Drive, Harpers Ferry, WV 25425
The TRACK Trail is located on Bakerston St. just west of downtown Harpers Ferry, WV.
GPS to Trailhead - 39°19'31.56"N, 77°46'1.33"W 
By Car
From Northern Virginia
From Interstate 495 West take the left exit (EXIT 45) and merge onto VA-267 West, the Dulles Toll Road (stay in local lanes, not express airport traffic lanes) / Dulles Greenway toward Leesburg (Portions toll). Follow to Exit 1, VA-7 W on the left toward Leesburg/Warrenton. Take the VA-9 exit toward Hillsboro / Charles Town, WV merging to the right onto Charles Town Pike / VA-9. After approximately 10 miles on VA-9 you will come to a light where you will bear right onto VA-671 N / Harpers Ferry Road. Follow this road until it ends at the lighted intersection of US 340 / Jefferson Pike. Turn left onto 340. Follow US-340 N to the four way intersection in Harpers Ferry (approximately 2.5 miles), staying in the left lane. Turn left at the light (you will see a large sign for the Park) and continue through to the entrance station.
For directions via plane and train visit the Harpers Ferry National Historical Website at